SEPTA quietly decriminalizes jumping turnstiles, lowers fines
Fare evaders caught by SEPTA officers receive a $25 ticket, down from $300, and do not face criminal charges. The change reflects a trend in Philadelphia policing.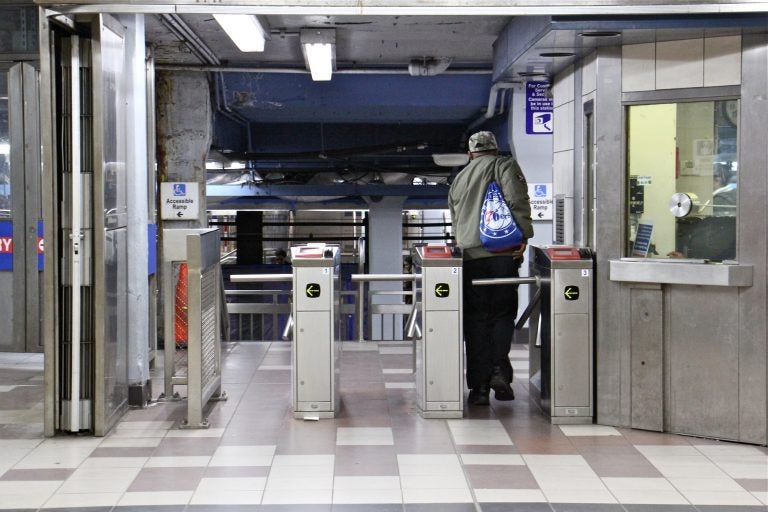 This story originally appeared on PlanPhilly.
—
Josh started one day in 2014 without enough cash on hand to pay his SEPTA train fare. He ended it unemployed, criminally charged, and hundreds of dollars in debt.
It was all over a $2.50 fare — and the Philadelphia man's attempt to get a ride to work without paying for a ticket.
That plan was foiled by the SEPTA officer who caught him, handcuffed him, and slapped him with a $300 fine.
Josh's criminal record has since been expunged; we're not using his last name so that the record doesn't continue to follow him.
He sued the company that denied him employment, and they settled out of court.
Years later though, the episode still bothers employment and labor attorney Ryan Hancock, who represented Josh in his lawsuit.
"People generally who are jumping turnstiles are doing so because they don't have the fare to get to their destination, period," said Hancock.
Tacked onto the fine Josh received were court costs that typically run around $150.
"That does not include the opportunity cost for that individual — who has to come to court one, two, three, maybe four times depending on how long the case goes — to take off from their job or take care of child care or elder care," Hancock said.
SEPTA now part of 'solution-building process'
The situation for someone in Josh's shoes would be different today. Earlier this year, SEPTA quietly decriminalized fare evasion. The policy change follows the lead of other city agencies that have moved toward a more rehabilitation-focused criminal justice system.
Fare beaters caught today receive a $25 ticket, down from $300, and do not face criminal charges. Repeat offenders are granted four strikes before they are banned from SEPTA's trains, buses and trolleys. Violating that ban constitutes a misdemeanor under the policy put into effect on Jan. 14, but the city district attorney's office has agreed to consider these cases for diversion, offering social services in lieu of jail time.
"We want to make the fines affordable, so people would actually be able to pay it and move on with their lives," said Thomas J. Nestel, SEPTA's chief of transit police. "We're looking for ways to further help address the root causes of this behavior — addiction, mental health. We want to be part of the solution-building process."
Not long ago, Nestel sang a very different tune. Under his command, Philly transit police went full force against turnstile jumpers, charging more than 4,500 in 2014, a greater-than-tenfold increase from 2011.
"People jumping turnstiles are not heading to the library or going to see grandmom," he told the Daily News in 2015. "They're getting on the system to engage in activity that is either criminal or disorderly."
The chief also gained a reputation during those years for shaming fare evaders by posting photos on Twitter with the hashtag #cheesesandwich, referring to the first meal detainees are served in jail. (Nestel is currently taking a Twitter sabbatical.)
Policing small quality-of-life crimes harshly to prevent more serious crime down the road is known as broken-windows policing. Increasingly, though, criminologists have discredited the strategy for having a disparate impact on low-income people of color while failing to reduce crime rates.
By law, employers are not supposed to consider very low-level convictions, but "any time that you have an interaction with the criminal justice system, if you're arrested or convicted of something, it's more likely than not that it will end up on a criminal background screen with how information is sold and used nowadays," said Hancock.
Philadelphia District Attorney Larry Krasner agrees with SEPTA's policy change.
"It's a smart approach that will hold people accountable for bad behavior while freeing up other resources in the criminal justice system for more series crimes," said Ben Waxman, a spokesman for the district attorney's office. "We're ready to continue working with SEPTA to implement this policy and also hold chronic offenders accountable in a way that protects the integrity of our transit system."
SEPTA officers charged more than 3,500 fare evaders last year. Nestel said he doesn't expect that number to decrease dramatically; his officers will still go after turnstile jumpers, they just won't feed them into the criminal justice system so readily.
Krasner did not have a direct hand in crafting this policy, but Nestle said that having a reform-minded district attorney in office was essential to its implementation.
In the years since Nestel coined his #cheesesandwich hashtag, local and national movements to stop over-policing and to end mass incarceration have snowballed. "I say this to police officers: 'You have to respond to the public.' It's pretty clear that the wave has changed for what people expect the police to do."
In Washington, D.C., 91 percent of the citations and summons for fare evasion issued by Washington Metropolitan Area Transit Authority between January 2016 and February 2018 were issued to African-Americans, according to a recent report from the Washington Lawyers' Committee for Civil Rights and Urban Affairs. The findings suggest racially targeted policing, the report's authors wrote.
Equipped with stats like these, activists in D.C. recently convinced lawmakers to change tacks. Last year, D.C. city council voted to reduce the penalty from criminal to a civil citation, and reduce the fine from $300 to $50. However, D.C. Mayor Muriel Bowser vetoed the bill in January, warning of "lawlessness" and lost revenue.
—

WHYY is one of 22 news organizations producing Broke in Philly, a collaborative reporting project on solutions to poverty and the city's push towards economic justice. Follow us at @BrokeInPhilly.
WHYY is your source for fact-based, in-depth journalism and information. As a nonprofit organization, we rely on financial support from readers like you. Please give today.