Review: Delaware Theatre Company's 'Playing the Assassin'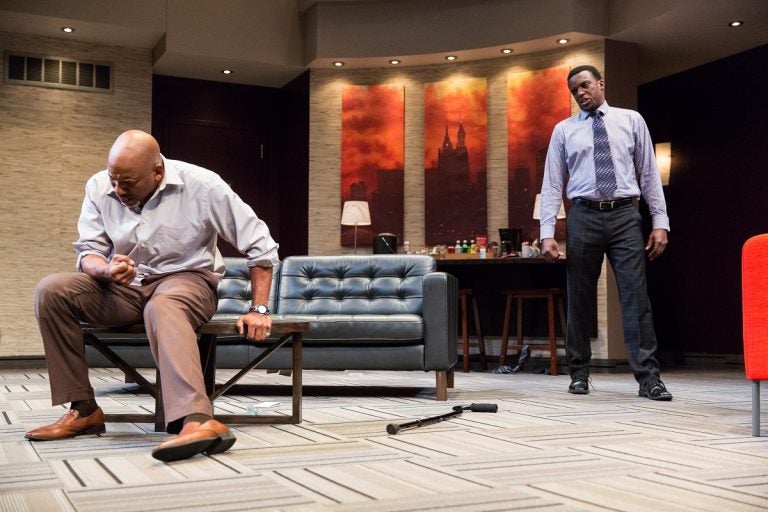 Don't go to see Delaware Theatre Company's production of "Playing the Assassin" if you're expecting a play about football.
Do go if you're game for a lively—and sometimes disturbing—debate about sports ethics, morality, personal responsibility, family, race and just about anything else the play's two characters care to cram into 85-minutes of conversation with confrontation with fisticuffs.
The work by Wilmington-based playwright David Robson premiered last year at Rockland County – New York's Penguin Repertory Theatre under the direction of Joe Brancato who reprises those duties here in Delaware, as do other members of his team, including actors Ezra Knight and Garrett Lee Hendricks.
Knight turns in a riveting performance as Frank, a faded football legend whose gridiron tactics during his heyday earned him the nickname "The Assassin" and who was responsible for inflicting an in-game injury on an opposing player that confined him to a wheelchair for life.
The action takes place in a modern yet not-quite-five-star hotel suite in downtown Chicago. Frank has been flown in by a segment producer from CBS Sports for a much ballyhooed pre-Super Bowl sit-down with the player he injured years ago.
Robson bases the plot on a real-life incident. During a 1978 pre-season game, Oakland Raider Jack Tatum plowed into New England Patriot Darryl Stingley rendering him a quadriplegic. The two men never spoke again. The incident became a symbol of violence in football, tarnishing Tatum's legacy until he died in 2010.
"Playing the Assassin" is the product of Robson's musings about what might have taken place if the two players had met to attempt a reconciliation.
Hendricks plays Lewis, the dressed-to-impress eager (if somewhat green) producer charged with convincing Frank to sign the contract for the no-holds-barred interview, which is to include an apology. Lewis appears a bit too interested in the details of the accident, the reason for which comes through later in the play. What follows is a cat-and-mouse game between the vainglorious Frank and the persistent Lewis, culminating in a demonstration of Frank's tackling prowess which turns shockingly violent.
Frank grows increasingly suspicious of Lewis, accusing him of lying about the other party's agreement to participate in the interview. In the midst of the verbal sparring, we learn that Frank has completed a memoir which fails to make mention of the tragic incident, even though it captured international attention.
Both actors deliver sturdy and consistent performances as their characters evolve through a series of striking revelations and twists of fate that sometimes stretch the limits of credulity.
Knight is a standout in the meatier of the two roles. He deftly combines the swagger of past glory with the stark reality of his diminished physicality and longstanding guilt and anger over an incident that shadows him and taints his legacy.
Hicks initially presents Lewis as an upbeat media professional but gradually blends in a hostility that presages a deep-seated resentment and belligerence.
Robson does not directly address some of the weightier issues facing football today, namely, fan complicity in the glorification of gridiron greats and the league's lax response to injuries—especially concussions—that often lead to dementia and even suicide.
But then Robson didn't set out to write a play about football. Just a story about two men who confront each other in an attempt to face their demons, discover their true natures and obtain redemption before the clock runs down.