Protest in Philly over police shooting of Jacob Blake in Wisconsin
A City Hall rally continues a summer that has seen the country's largest protests and demands for racial justice and police reforms in decades.
Updated: 7:50 p.m.
Hundreds gathered outside Philadelphia's City Hall Friday evening at a rally demanding justice for Jacob Blake, a Black man repeatedly shot in the back and seriously wounded by police in Kenosha, Wisconsin, Aug. 23 as he entered his SUV.
The march was organized by the Party for Socialism & Liberation and endorsed by the Philadelphia chapter of Black Lives Matter, both of which organized similar demonstrations around the police killing of George Floyd earlier in the year. The organizers are demanding disciplinary action against the Kenosha officers involved with shooting Blake seven times as he was getting into his vehicle. His three children were in the back seat.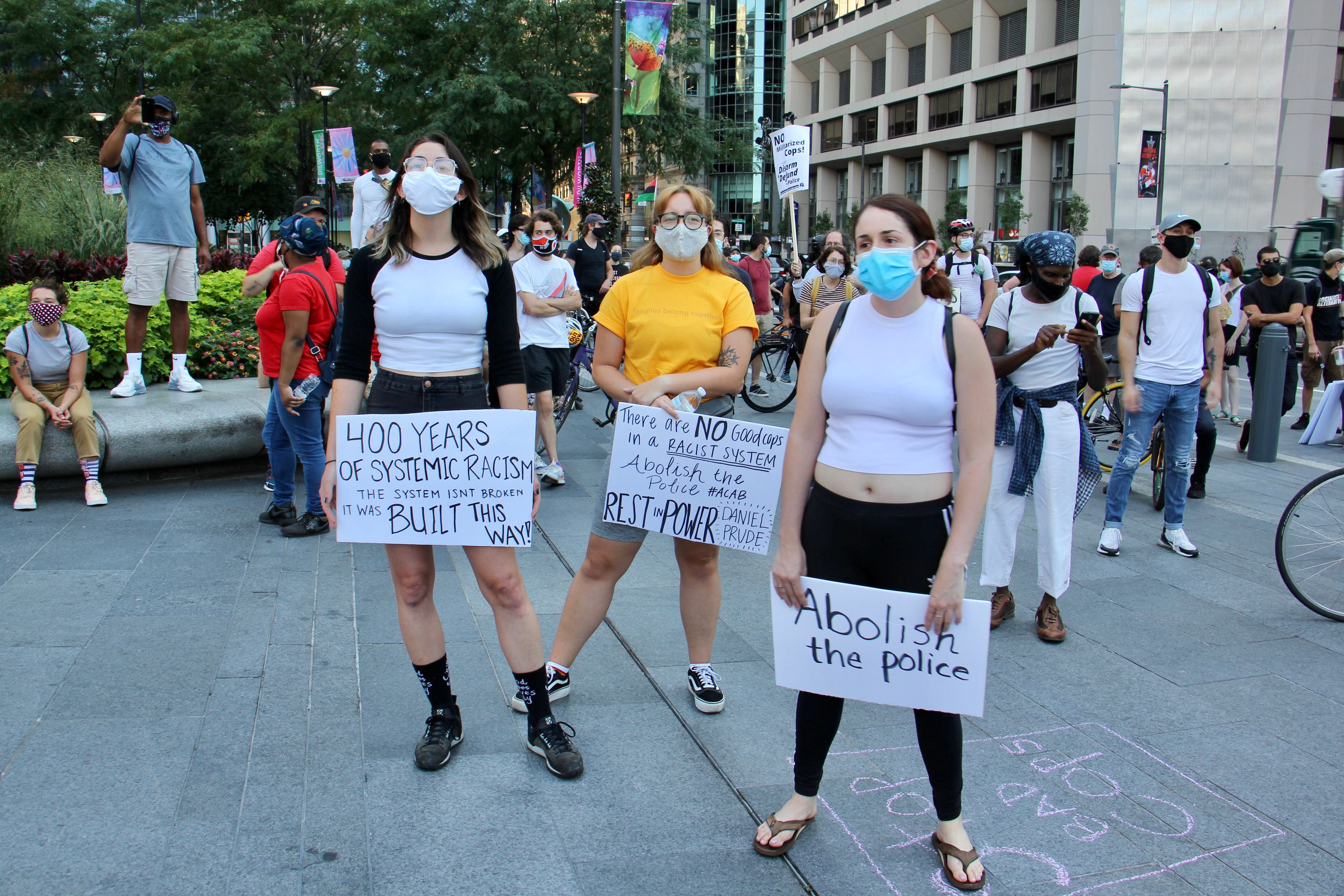 In a statement released ahead of the protest, the group called for officers involved in the Blake shooting to be "immediately arrested and charged."
Blake, a 29-year-old African American man, was shot in the back seven times by officers, after apparently attempting to break up a fight. A viral video depicts Blake moving away from police and attempting to enter his car when Officer Rusten Sheskey opened fire, paralyzing Blake from the waist down.
The widely circulated video of a white police officer shooting a Black man reignited protests over police accountability in Kenosha and other cities across the nation, many of which were still reeling from unrest over the Floyd killing.
As of 5 p.m., about 100 people had gathered for the protest outside of City Hall.
Twenty minutes later, the protesters' numbers had almost doubled. Some applauded as an organizer from the Party for Socialism & Liberation said police are "a weapon of the state" and white supremacy.
A'Brianna Morgan, a founding member of political advocacy group Reclaim Philly, read off a list of four demands for city council, the mayor and the district attorney: defund the police, give control over police to the community, end the war on Black and brown people, and "free our people" and stop the spread of COVID-19. She elaborated on each point.
On Reclaim Philly's plan to defund the police, she said, "Reduce the PPD budget by 15% every year and work with community organizations to develop a plan to fully dismantle the police."
In regards to giving control over police to the community, she said, "We need to abolish the Fraternal Order of Police and Police Advisory Committee," adding, "We need direct, democratic, community control of the police department to ensure that communities most harmed by destructive policing have the power to hire and fire officers, to determine disciplinary action, to control budgets and policies, and to subpoena relevant agency information."
By ending the war on Black and brown people, she clarified, "We demand an end to the criminalization, incarceration, and killing of our people. This includes the removal of police from schools, and end to the use of past criminal history to determine eligibility for housing … This also includes an end to the mass surveillance of Black communities and an end to the use of technologies that criminalize and target our communities. An end to the separation of Black families through the forcible removal of our children by the Department of Human Services and an end to the city's interaction with ICE."
And on freeing "our people" and stopping the spread of COVID-19, she elaborated, "Conditions inside jails, prisons and detention centers have always violated human rights, but the current conditions are so much worse." She called Mayor Kenney and the City of Philadelphia to "permanently shut down the Detention Center."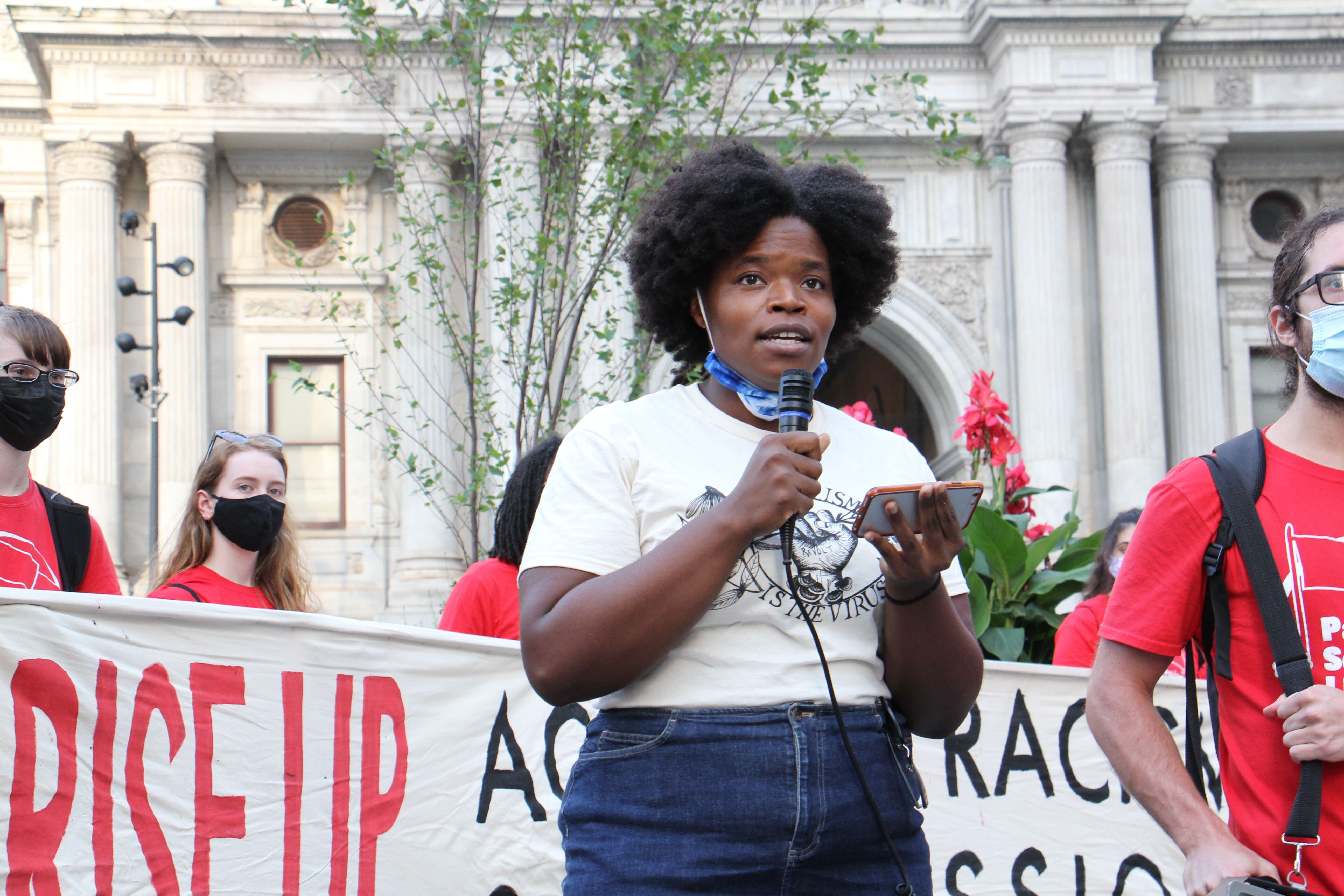 "We demand justice and will fight every day until Black people are safe in this country," Morgan said. "White people have no idea the terror that Black folks experience every day, often in secret, when no one is filming, right here in Philadelphia."
Another speaker called for the abolishment of the University of Pennsylvania police and demanded that the Ivy League school be made to make payments in lieu of taxes.
Protester Vishu Doshi, an unemployed Philadelphian in training to become an HVAC technician, said the disproportionate rate of police killing Black people (compared to white people) is what brought him into the streets. Doshi also identified the ways "poor people and minorities" are kept poor as reasons for his politicization.
Doshi said he hopes to see much of the funding that currently goes to police rerouted to community services and mutual aid efforts like feeding the food-insecure and housing the homeless.
"Why do we have an encampment? We have so many empty homes, it would be so easy to provide housing for those people in the city," Doshi said, referring to the housing-protest encampments currently set up on a ballfield on Benjamin Franklin Parkway, behind the Philadelphia Museum of Art and on Ridge Avenue, near the headquarters of the Philadelphia Housing Authority. The city has set a 9 a.m. Wednesday deadline -— its third in recent weeks — for those encampments to be dismantled. The organizers say they will not leave until all those living in tents have stable housing.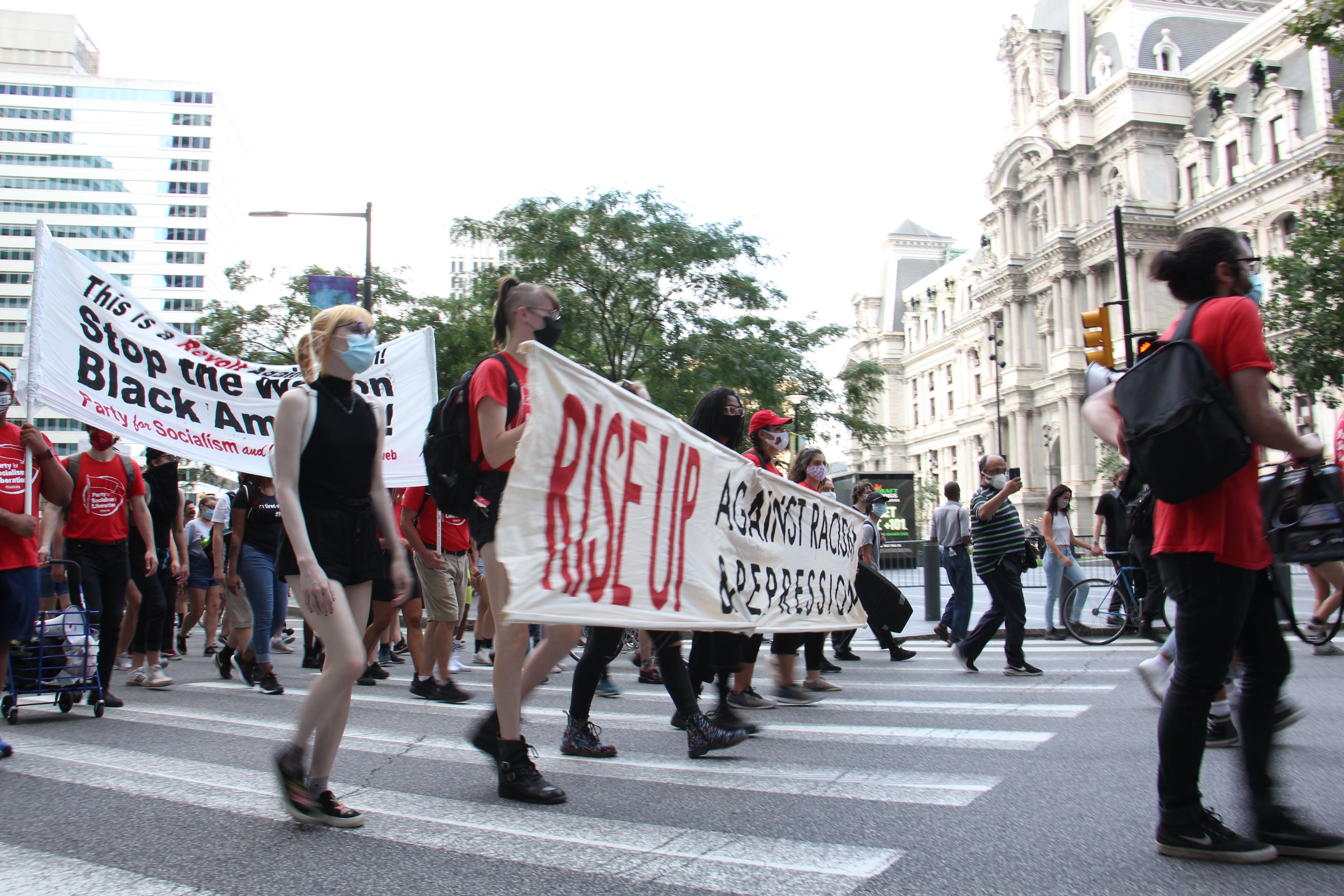 About 6 p.m. the protesters began to march down Market Street.
Market is shut down by rally now, March is about two blocks long pic.twitter.com/DrsF81aCl1

— Ryan W Briggs (@rw_briggs) September 4, 2020
And about 6:30, they were heading to police headquarters, to chants of "No good cop in a racist system."
— Ryan W Briggs (@rw_briggs) September 4, 2020
At the Roundhouse at Seventh and Race streets, the organizers of the protest reiterated its previously stated demands.
The crowd marched back to City Hall, where Party for Socialism & Liberation leaders exhorted them to "get educated and organized" and told police to "burn in hell." By about 7:30 p.m., the group had mostly dispersed.
WHYY is your source for fact-based, in-depth journalism and information. As a nonprofit organization, we rely on financial support from readers like you. Please give today.