Philly's newest EV chargers designed to help drivers living in rowhouses go electric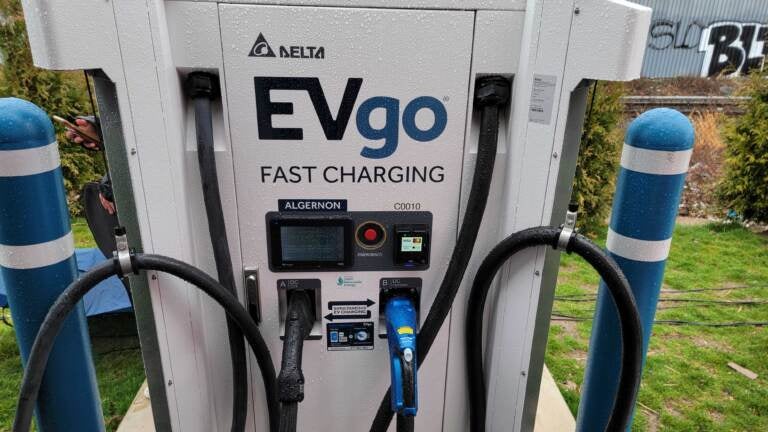 A new bank of quick chargers for electric vehicles has been installed in an unlikely place in Philadelphia.
The chargers are now in place outside a Wawa store at Aramingo Avenue and Wheatsheaf Lane, at the edge of Port Richmond, but in the shadow of Interstate 95 and both the Tacony-Palmyra and Betsy Ross Bridges.
That location was selected as part of a new effort to make plug-in hybrids available to those who normally wouldn't be able to have an electric vehicle because they can't plug them in due to their housing situation.
The chargers are designed to give a car 80% charge in as little as a half-hour for about eight dollars, which could be an incentive for people who don't have the ability to charge their car because they live in a rowhouse or duplex that doesn't have a driveway to host a charger.
Ted Brooks of EVgo, the company that installed the charging station, said the chargers are designed to make quick charging a reality. The faster chargers make more sense than slower chargers most people have that can take several hours to charge a vehicle Brooks said.
The 30-minute, high-speed charge could last for 200 miles, or the equivalent of a week of commuting, Brooks said. That's also enough juice to power a night's worth of driving for Uber or Lyft. Brooks said those drivers could have a meal from the convenience store while they are waiting for their car to charge.
Building charging stations in an area where there aren't many EV owners could be the key to expanding the plug-in market, Brooks said. "This is for the mom or dad running errands," he said, adding that charging the car could be another weekend chore along with food shopping and picking up clothes from the dry cleaner.
Wawa's Vince Cipollone said they already run conventional gas stations and this is a logical expansion of their business. The company began offering EV chargers in 2017 in their Florida location, and considers it just another amenity they are offering their customers.
The company hosts 80 locations with EV chargers with almost 650 charging stalls. Those stations exceeded over a million charging sessions in 2021 and over 2 million charges since they launched. Wawa hopes to expand to up to 100 charging locations throughout the company stores by the end of this year and plans to double that number by 2025.
Pennsylvania Secretary of the Department of Environmental Protection Patrick McDonnell, who grew up not far from the new charging station, said the goal of the charging station expansion is to help cut down on the 500 gallons of fuel a year the average car consumes. He said moving from fossil fuel to something that is less polluting is important. Putting charging stations in low-income areas gives people the ability to buy EVs while allaying the fear of "range anxiety," where people driving long distances need intermediate charging locations to keep them going along their route.
The charging stations are just another part of the Drive PA Forward initiative. The state is putting up $2.2 million in a partnership with EVgo to install fast chargers for public access in several Pennsylvania counties.