Philadelphia residents, youth say city leaders aren't listening to their ideas for solving gun violence
PHL Youth Week is designed to give teens a chance to share their perspectives on health, education and gun violence, but advocates and residents say more action is needed.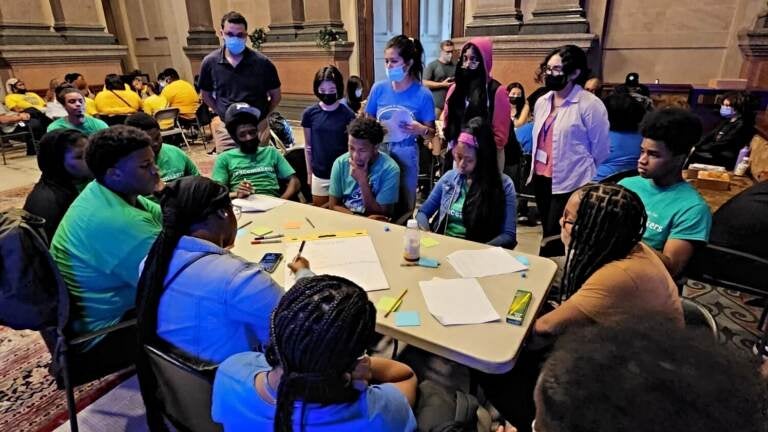 Working on a solution to gun violence and want to share it? Get in touch with gun violence prevention reporters Sammy Caiola and Sam Searles.
This week, the Mayor's Office of Youth Engagement has set out to gather teen input on education, public safety, entrepreneurship and health during PHL Youth Week. It's an opportunity for gun violence prevention activists to try to elevate the voices of teens who are directly impacted by the crisis.
The event runs through Friday Aug. 12 and involves 20 youth organizations.
"Our young people's hopes, dreams, concerns, and ideas matter," the language on the city event page reads. "PHL Youth Week is their space to be truly seen, heard, and celebrated."
For nonprofit group Frontline Dads, the event was a chance to share the findings of a gun violence survey that teens conducted over the last six weeks — the results of which paint a less-than-rosy picture of the city's efforts to address the issue.
Teens talked to more than 500 residents from three neighborhoods, about three quarters of whom had lost a friend, family member or classmate to gun violence. Executive director Reuben Jones said the project was about teaching youth how to get civically engaged.
"We want them to learn how to engage as community organizers," he said. "How to survey the community to get their perspective, how to build a campaign. So that's what the primary goal was for this."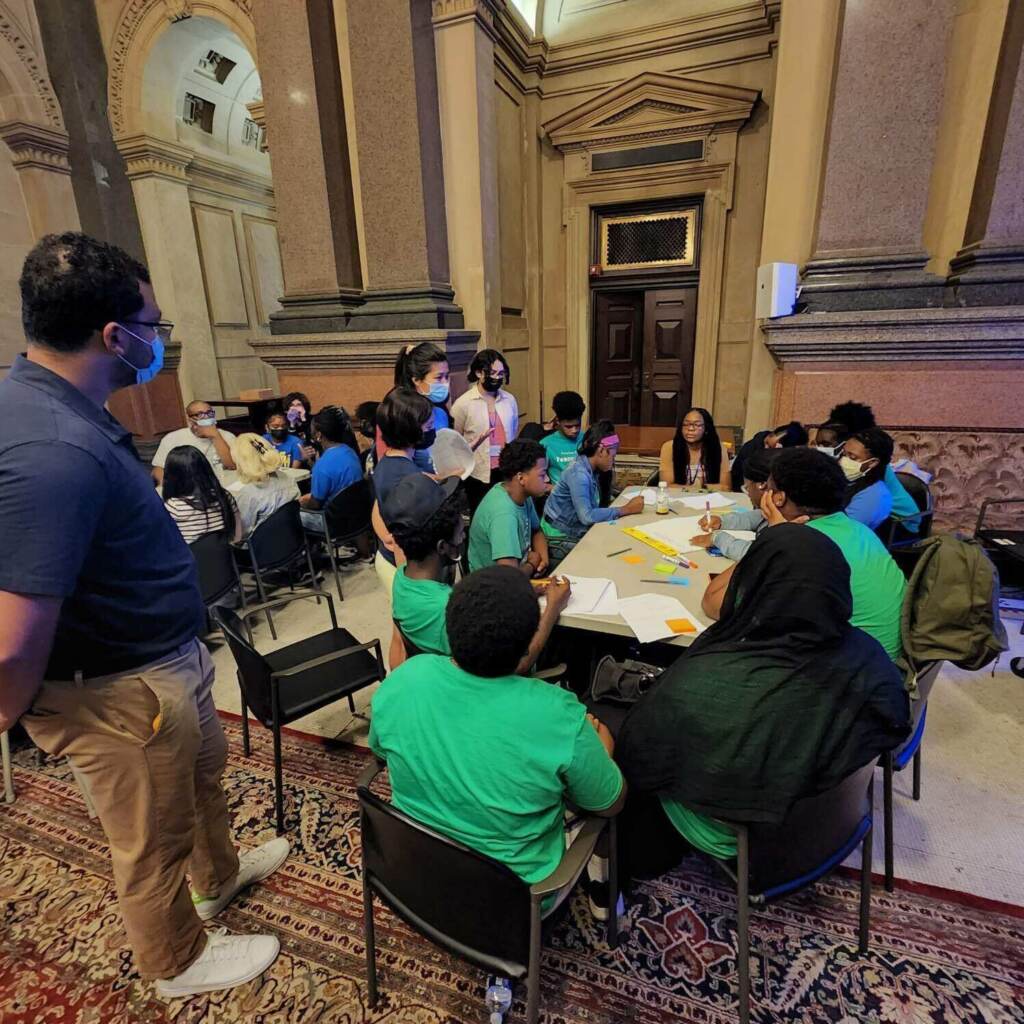 Preliminary results from the survey showed that 96% of residents think the city leadership "could do more to stop gun violence" and 89% say city leadership has never asked them for suggestions on how to address the problem. Respondents called for stricter gun policy, more afterschool programming and better access to mental health counseling.
Jones said the teens who conducted the survey were excited to present their findings to Mayor Jim Kenney this Tuesday. He said they wrote and practiced speeches — but when the mayor showed up, he only made brief remarks and didn't engage in a dialogue.
"So you have this series of events, and you're demonstrating no interest whatsoever in the actual youth," he said. "Other than a drive-by speech and a photo op. So I was very, very disappointed by that."
An email from city staff to WHYY at the end of the day Tuesday did not directly address the mayor's appearance, but called the second day of PHL Youth Week "an incredible event."
"I am deeply inspired by the young leaders at PA Youth Vote, Youth United for Change, Philly Bolt and Frontline Dads," said Jeanette Bavwidinsi, Director of the Office of Youth Engagement, in the statement. "They are the reason we do this work. Their passion, fire, and dedication are infectious and we cannot wait to see the movement they continue to build going into election season."
Jones did note that he appreciated the council members who showed up to talk with the group.
Earlier this summer, Kenney faced criticism for publicly expressing that he's looking forward to not being mayor anymore. Jones said Tuesday's lack of genuine listening just exacerbated the disappointment youth were already feeling.
"I had to kind of talk him through why," Jones said "And they just felt like, 'well, the mayor doesn't care about it. He already said he can't wait to not be mayor again. So, you know, how is he going to care about us?'"
As shooting rates climb, multiple nonprofit organizations have devoted resources to gathering young people's input on how to solve the gun violence crisis. The Enough is Enough Students Against Violence Steering Committee presented a resolution to City Council earlier this year with a slew of ideas, including strengthening gun laws.
The City of Philadelphia made an effort to gather community input on the problem during a listening tour this spring, which included hosting evening events in several neighborhoods affected by gun violence. Representatives from city government, law enforcement and public health sat at tables with nonprofit leaders and residents to gauge their concerns around gun violence and what action they hoped to see. Many called for improvements to parks, libraries and recreational spaces, more trust-building between residents and police and a larger investment in youth mentorship and job readiness programs.
Officials told participants that listening sessions would drive future decision-making on gun violence spending. The 2023 fiscal year budget includes $184 million for gun violence initiatives including environmental improvements, youth programs and victim services.
Jones said he plans to release the full survey data next week, but doubts the results  or the continued youth advocacy will lead to meaningful change.
On Friday at 4 p.m., PHL Youth Week will close with a community conversation "in the hopes of leaving the space with recommendations for City/State leadership around the epidemic of violence in our communities," according to the city's event page.
If you or someone you know has been affected by gun violence in Philadelphia, you can find grief support and resources here.

WHYY is one of over 20 news organizations producing Broke in Philly, a collaborative reporting project on solutions to poverty and the city's push towards economic justice. Follow us at @BrokeInPhilly.
WHYY is your source for fact-based, in-depth journalism and information. As a nonprofit organization, we rely on financial support from readers like you. Please give today.