Pa. sends first 'strike team' to relieve health care workers in Bucks County
The new strike teams are part of a larger, state-directed effort to temporarily bolster capacity at short-staffed hospitals in Pennsylvania.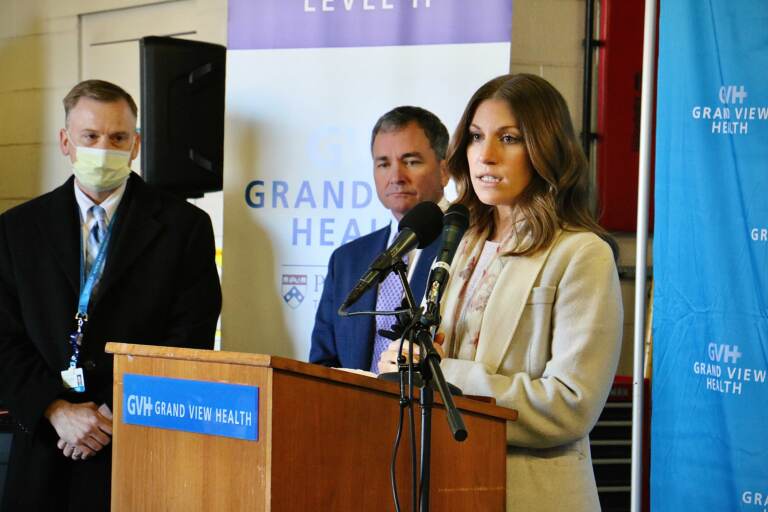 Ask us about COVID-19: What questions do you have about the coronavirus and vaccines?
Hospitals throughout the commonwealth have been struggling with staff shortages, at the same time many are overwhelmed with COVID-19 patients during the omicron surge.
In response, the Pennsylvania Department of Health deployed its first health care strike team to help relieve the strain at Grand View Health in Bucks County.
It's part of a larger, state-directed effort to temporarily bolster capacity at short-staffed hospitals.
"State strike team members, which include physicians, advanced practice providers, nurses, and respiratory therapists, will be providing short-term staffing assistance for 7 to 14 days," said Acting Secretary of Health Keara Klinepeter at a Monday press conference. "The intent is that these staff will fill in for a limited time while hospitals develop their own longer-term sustainable staffing solutions."
The state health department is contracting health care professionals through GHR Healthcare, which is recruiting workers from outside Pennsylvania, to avoid "heightening current staffing limitations within the state," Klinepeter said.
Tania Fornelos, the vice president of nursing at GHR Healthcare, said strike team members are coming from New Jersey, Delaware, and as far away as Texas.
Hospitals throughout the state can request strike teams on a rolling basis, and the health department plans to deploy teams within 48 hours of approving the request. Her team will evaluate requests twice per week. The teams are free to hospitals, and the services will be reimbursed by FEMA.
"It's hard to judge exactly how many strike teams we will be able to deploy at once, since each strike team is customized based on what resources the hospital needs," Klinepeter said. One facility may need 10 nurses and two respiratory therapists, while another might need a physician, so "it's not just a matter of the sheer number but getting the right types of providers in place."
Since informing hospitals about the short-term strike teams last week, the health department has received three requests for support, Klinepeter said.
Douglas Hughes, the interim president and CEO of Grand View Health, said over the summer, his team hoped they'd reached the beginning of the end of the pandemic.
"The week of July 12, for the first time in over a year, we had zero COVID inpatient hospital patients," he said.
Instead, they have rallied once again to care for patients during the latest surge.
"They held the hands of patients too sick to have a loved one at their side, comforted families throughout some of their darkest days," said Hughes. "They weathered the storm throughout staff shortages, supply chain issues, and the sheer physical and emotional exhaustion that comes with doing battle every day."
For two weeks, the strike team will help ease the strain as omicron cases spike.
"Fourteen days will be big for us to get through this surge," said Cynthia Westphal, the chief nursing officer and vice president of patient care services at Grand View Health.
She noted that a little over a week ago, the hospital had 45 inpatient COVID cases. Now, they're down to 32.
That's still about a third of the hospital's acute medical beds, but "we think by 14 days we should be even lower," Westphal said. "We think the surge will be less and we'll have a lot more capacity throughout the entire organization."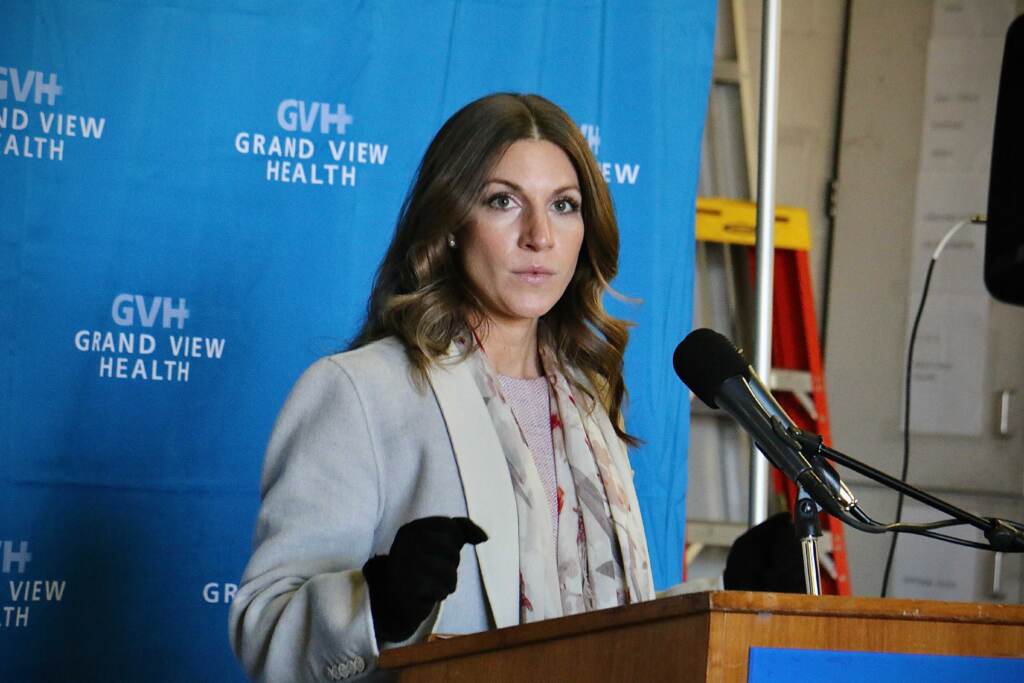 Westphal said the hospital is receiving about three to four nurses per day, and placing them in departments with the most staffing challenges, including the ER.
Klinepeter noted that these state-directed strike teams are separate from the federal teams that were sent to hospitals in Scranton and York earlier this month, and added that the state plans to take additional steps to help with staffing shortages, like setting up additional regional decompression sites, where overwhelmed hospitals can transfer patients.
She stressed that while there has been a slight decrease in COVID cases and hospitalizations throughout the state, "we are not out of this yet."
"Over 6,000 hospitalizations across the commonwealth is no joke," Klinepeter said. "Workers are tired and they deserve a break."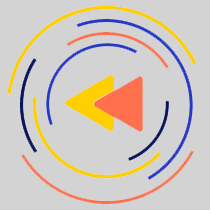 Saturdays just got more interesting.
WHYY is your source for fact-based, in-depth journalism and information. As a nonprofit organization, we rely on financial support from readers like you. Please give today.