'NIMBY does apply sometimes,' says Philly councilman Jones on cannabis dispensaries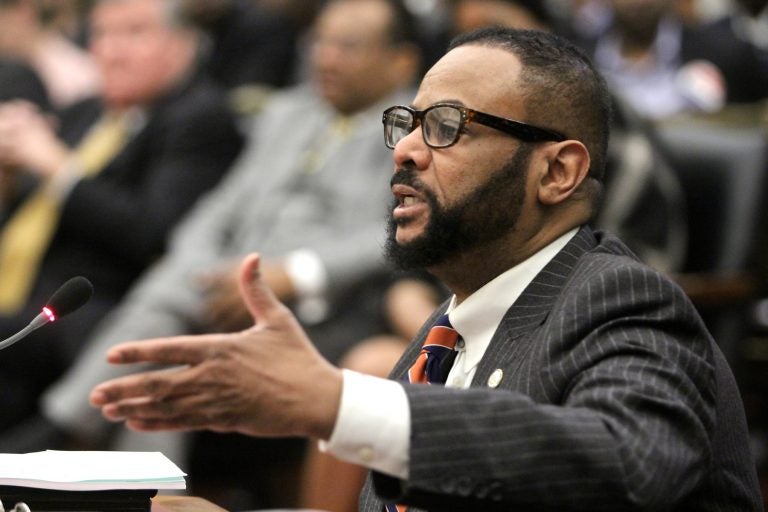 On Thursday, City Councilman Curtis Jones introduced a bill that would regulate medical marijuana dispensaries in his district — including the Overbrook Farm and Roxborough neighborhoods — as well as across Philadelphia.
The legislation calls for banning dispensaries at eight locations within his district, including sites such as "Parkside Avenue from 52nd Street to Belmont Avenue" and "City Avenue from the Schuylkill Expressway to City Boundary."
It would also require those seeking a zoning permit for a medical marijuana dispensary to notify relevant Council members, registered community groups, and neighboring properties.
"NIMBY does apply sometimes, not in my backyard," Jones told reporters on the floor of City Council. "I'm hoping though zoning we can restrict certain uses of properties within certain areas. For example, on City Avenue, if they have their way, there will be three medical dispensaries within a half mile. That's a little much for any one community to absorb."
This is just the latest clash between Philadelphia City Council and the incipient medical marijuana industry. Last year, Councilwoman Cherelle Parker rallied with neighbors to contest a permit for a Mt. Airy dispensary before the Zoning Board of Adjustment. The pressure eventually pushed that company, TerraVida Holistic Centers, to find a location in the suburbs.
Jones said he supports medical marijuana, and he couched his bill as an issue of local control — mentioning neighborhood fears about parking and congestion — as opposed to employing law-and-order rhetoric.
Jones went on to say that local politicians feel the ire of distraught residents in a way that the Pennsylvania Department of Health, which issues state permits for the facilities, does not.
"You [are] talking about those services in impacted areas that have issues like parking and security that require local input," said Jones. "Some communities in my district love it, this fits their lifestyle and expectation, in other areas they don't. Locally, we know the difference."
Chris Goldstein, a local organizer with the National Organization for the Reform of Marijuana Laws, said the bill is part of a trend toward hyperlocal regulation of medical marijuana across the region. In other parts of Pennsylvania, local politicians and community groups have been extracting donations in exchange for zoning changes or other required regulatory adjustments, he claimed.
"What I'm seeing in Curtis Jones' bill is a little ominous," said Goldstein. "What he's saying is that anyone who wants a dispensary has to tell the members of Council and other unnamed people in the community that they would like to open there. That's a scenario where people are going to get squeezed for donations to community funds."
Such accusations are not uncommon in the city's zoning process, where developers who seek variances or special exceptions from the Zoning Board of Adjustment have been known to donate money or services to community groups in order to minimize neighborhood opposition.
A generous way to look at these situations would be to call them community benefits agreements. In some cases, where there are clearly defined terms and conditions — and transparency about how funds will be spent — these arrangements have been praised by all sides. But property owners say that in other cases the practice comes closer to rent-seeking, if not outright extortion.
But Jones said his bill is simply meant to inform residents of incoming dispensaries.
Unlike community groups that protest a zoning variance, the bill would not necessarily give residents leverage over an applicant. (A neighborhood group can lobby the zoning board at a hearing to deny a variance, but there is no such clear way to seek redress in a dispensary case.)
Goldstein, however, said the new bill is part of a blinkered mentality that will prevent the city from taking full advantage of the medical marijuana industry and, he claims, eventually full-scale legalization.
"Why don't City Council and Mayor Kenney have a strategic plan rather than letting members of City Council regulate within their fiefdoms " said Goldstein. "I don't think that will turn our well for patients."