Lucky Leo's partner: "Business is great today" in Seaside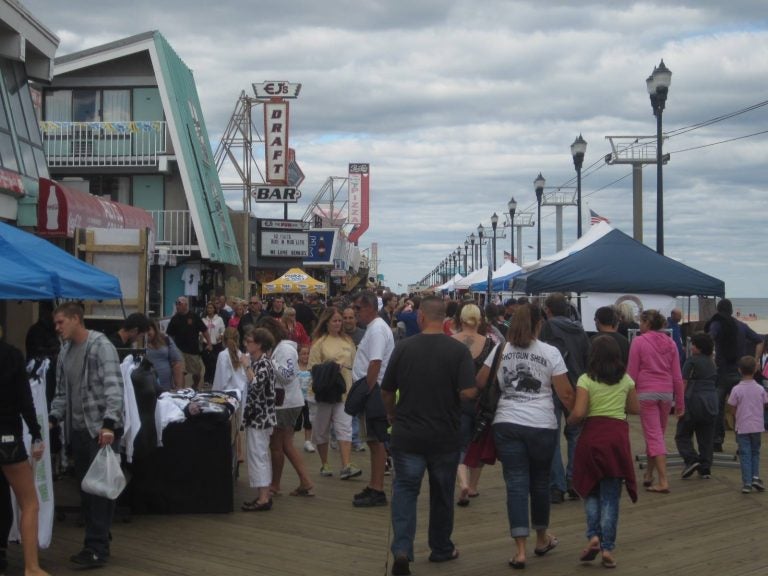 Nearly 48 hours after the devastating 10-alarm blaze that ripped through a four block stretch of the iconic boardwalk in Seaside Park and Seaside Heights was brought under control, crowds are plentiful in Seaside Heights, Jersey Shore Hurricane News contributors report.
"It's packed and fun," says Sharon Ott, a South Seaside Park resident who is currently watching Badfish, a Sublime cover band, play on the beach as part of the New Heights Festival, a weekend festival featuring music, action spots, and more.
Mike Tumolo, a Seaside Park volunteer firefighter who is enjoying downtime after working long hours during the last two days, echos Ott's sentiments, adding that Badfish will be playing an encore performance at 11 p.m. today at Aztec, a boardwalk bar just north of Casino Pier.
Earlier today, Laura Monaco also described the scene on the boardwalk as "packed."
"You should have seen the line at Kohr's," she says, referring to one of Kohr Brothers Frozen Custard stands on the boardwalk.
Officials say that the massive blaze began in the immediate area of the Seaside Park Kohr's stand, quickly spreading to the north. The vast majority of the Seaside Heights boardwalk was unaffected by the fire.
For one business owner, today's activity boils down to one word: thankful.
Kelly Whalen, a business partner in her family's legendary "Lucky Leo's" arcade, says that business today has been busier than a typical mid-September Saturday. The fire did not impact the arcade.
"Business is great today," she says. "The response has been overwhelming."
A post on Lucky Leo's Facebook page indicates that the owners are "overwhelmed" with the public's concern.
"Thank you. Thank you. Thank you," the post states.
Whalen's smallest customers are perhaps the most relieved.
"Parents have been telling us that their kids were so concerned about Lucky Leo's."
On the boardwalk it boils down to simply enjoying life, and that's what Sammi Brach, a Seaside Heights resident, is happy to experience tonight.
"Lots of fun," she says.