Legislative bailout plan for Atlantic City might keep Taj Mahal casino open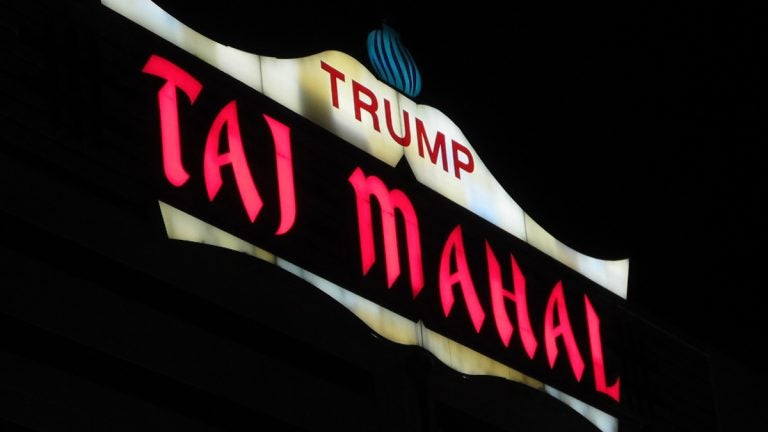 Atlantic City might not lose a fifth casino this year after all — and the city's tax-burdened residents may finally get some relief — if a set of reforms designed to stabilize the struggling resort town's finances continues its steady glide path to approval in Trenton.
The city has seen four casinos close so far this year, and the management of the Trump Taj Mahal has told more than 2,500 employees they will lose their jobs if the casino closes December 20. But Atlantic City Mayor Don Guardian said yesterday that a new tax-payment scheme making its way through the state Legislature could be the linchpin of a deal to keep the casino in business.
"I do believe that this legislation is going to save the Taj from closing, because it's exactly what the assumed owner after the bankruptcy has been asking for," Guardian told the Senate Budget and Appropriations committee during a hearing.
Investor Carl Icahn, who owns the debt of casino owner Trump Entertainment, plans to take over the Taj Mahal and invest $100 million in upgrades, but says he needs $175 million in state and local tax breaks. The Senate committee yesterday endorsed a PILOT program that could potentially reduce the Taj's tax bill but Icahn's other demands have been rejected.
The casino started shutting down last week, with one hotel tower closing. But the company is negotiating with Local 54 of the Unite Here union over benefit cuts it says will allow it to keep the business operating. The company wants the union to drop an appeal of a court order last month that canceled the benefits, and accept a new pension plan and a two-year health insurance extension.
The Taj Mahal was set to close December 12 but the company last week extended the closure date. Guardian called the extension an "extra opportunity" for continued union negotiations during an interview with NBC10 on Friday.
In addition to praising the PILOT for potentially saving one casino, the mayor said another piece of legislation is contributing to an effort to reopen another. The recent expansion of two state programs, Grow NJ tax credits and Economic and Redevelopment Growth incentives, to include Atlantic City should "be very helpful in trying to sell the Revel property and reopen that as a casino hotel," he said.
Brookfield Asset Management recently announced it was backing out of an agreement to buy the former Revel casino because of large debt payments for the building's power plant, but negotiations are reportedly underway to save the deal. The reopened casino could be eligible for state assistance under the legislation Guardian cited.
The PILOT program that cleared the Senate committee yesterday would require the city's remaining casinos to pay $150 million in lieu of city and school taxes for two years. They would then pay $120 million for the following 13 years, though the figure would be indexed to gaming revenues and could rise or fall annually. This year the casinos are paying $210 million in local taxes, but closures and lower tax assessments are expected to result in smaller payments next year.
The bill is intended to stabilize the tax base after a ruinous few years during which casinos have successfully appealed their assessments, forcing the city to pay out hundreds of millions of dollars in tax refunds, take on a heavy debt load, and increase the property tax rate on businesses and residents by 53 percent in two years.
"This doesn't do it all, by any means. This just stops the hemorrhaging," Sen. Jeff Van Drew (D-Cape May) said of the bill. "If we don't do something, the state of New Jersey is going to be responsible for an awful lot."
Guardian said total property valuations in Atlantic City dropped from $20 billion five years ago to $11.2 billion now, and are expected to lose another $4 billion before leveling in two years.
The committee voted to move bills sponsored by Senate Majority Leader Stephen Sweeney (D-Gloucester) that create the PILOT; redirect $30 million in annual casino assessments from redevelopment to city debt relief; shut down the city's casino-funded tourism marketing organization and shift its funding into the PILOT for two years; increase state aid for the Atlantic City School District; and require casinos to provide employees with health and retirement benefits.
Some Republicans cast "no" votes, particularly on the last two bills. After committee chairman Sen. Paul Sarlo (D-Bergen) lamented the lack of bipartisan agreement. Sen. Jennifer Beck (R-Monmouth) called his comment "inappropriate" and said her vote against increased school aid did not reflect an unwillingness to help Atlantic City.
"Look, we have school aid issues across the state, in your districts and mine. There is no doubt about it, and to single out one municipality that is having challenges and ignore the challenges in all of our other municipalities, I don't think is right," Beck said. "It has to do with whether or not we should be dealing with this in a piecemeal way, or if we should be addressing school aid in a comprehensive way."
The employee benefits bill, which came in response to the canceling of Taj Mahal employee benefits, also drew opposing votes.
"Do we mandate how compensation is paid, or do we the let the business determine if they want to pay more salary, health benefits, pension?" said Sen. Steven Oroho (R-Sussex), who voted against sending the bill to the full Senate.
There has been little opposition to the PILOT and the bill redirecting casino assessments, though Assemblyman Vince Mazzeo (D-Northfield) said last week that he thought the PILOT amount would need to be set higher to win legislative approval. Gov. Christie has not signaled his intentions, but some of the proposals correspond closely to recommendations given to him by his gaming advisory commission.
In his remarks before the committee, Guardian described the package of bills as one of a few steps needed to fix the city's problems.
He is trimming $5 million from the city's $260 million budget this year, cutting another $15 million next year, and planning a $40 million decrease over the next three years, he said. Hundreds of layoffs are expected next year. He noted that the city received extra transitional aid this year and is seeking a three-year deferment in pension payments as it works to reduce its debt load and avoid more tax increases.
The school district is reducing its budget by $10 million next year and planning $18 million in further cuts over three years. New education aid, if approved, will be accompanied by a state monitor from the Department of Education to introduce "best practices" and reduce spending, Guardian said.
He also reminded legislators of the city's contributions since gambling began in 1978, calling it an "economic engine" for the region.
"A.C. isn't a burden on the state. Thirty-five years, $9 billion in gaming taxes, is our history," he said. "And even though casino income has shrunk from $5 billion to $2.5 billion, and is now leveling off, we're still producing $200 million in gaming taxes for the state." City businesses produce another $200 million in sales taxes and $29 million in other taxes and fees, Guardian said.