Holiday Entertainment Guide – A Brandywine Christmas, 'Snowball,' and 'A Christmas Carol'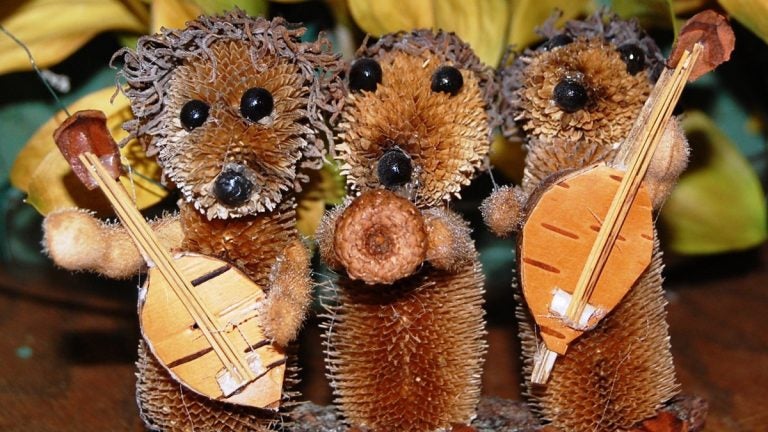 Looking for something to do this holiday season? WHYY's Robin Bloom has some recommendations on what's happening in the Philadelphia region. Here are her picks:
The Brandywine River Museum's annual tradition of "A Brandywine Christmas" returns with the O-gauge model train display that this year pays tribute to Trains of Spain, featuring nearly 2,000 feet of track, rare antique dolls dressed in period clothing on view in a display that recreates the living room of the N.C. Wyeth House, trees decorated with thousands of "critter" ornaments, and more through January 5, U.S. Route 1, Chadds Ford, PA. Children who bring a doll or stuffed animal will receive a free cookie.
Related programming and events include musical performances by harpist Mary Groce, Saturday, November 30, Wilmington Handbell Ensemble, Thursday, December 5; Nutcracker Family Workshop, November 30; Meet Nutcracker Dancers from Brandywine Ballet, Saturday, November 30, Pennsylvania Ballet, Thursday, December 5; Festival caroling, Sunday, December 1; Polar Express Read-Aloud Pajama Night, December 5. Saturday & Sunday, December 7-8 is the Annual Critter Sale, ornaments and tabletop decorations made from natural materials, including dried flowers, pine cones, seeds, pods and berries, hand-crafted, 9:30am-4:30pm.
"The Big Time: New Vaudeville for the Holidays" at 1812 Productions
The team that brought you "The Big Time" in 2000 is back with a new production of "The Big Time: New Vaudeville for the Holidays," opening November 29 through December 31 at the all-comedy theatre company, 1812 Productions. Created and directed by Jennifer Childs, the show reunites Scott Greer, Dave Jadico, and Tony Braithwaite, and adds company favorite Greg Nix in a revue of classic vaudeville routines combined with original material and styles that cross genres and time periods. Nods to Gallagher & Shean, Burns & Allen, The Smothers Brothers, Eva Tanguay, and many more, with unique sound design by Christopher Colucci at Plays & Players Theatre, 1714 Delancey Street, Philadelphia. Note: Performances including Tony Braithwaite start December 18.
My Mother's Italian, My Father's Jewish & I'm Home for the Holidays
The all new "My Mother's Italian, My Father's Jewish & I'm Home for the Holidays" takes to the stage at the new Penn's Landing Playhouse, November 29 through December 31. Steve Solomon's sequel to his three-time award-winning hit "My Mother's Italian, My Father's Jewish & I'm in Therapy," is a comical one-man show, following Steve (played by Peter Fogel), who, while trapped in the airport, tackles the holidays, his adolescence, mixed marriage, ex-wives, dogs, cats, dieting and much more inside the Independence Seaport Museum, 211 S. Columbus Blvd, Philadelphia.
"A Christmas Carol" at Walnut Street Theatre
Head back to 1840s London and join Ebenezer Scrooge and the ghosts of Christmas Past, Present and Future for the annual Philadelphia tradition of "A Christmas Carol," on the main stage at Walnut Street Theatre, November 30 to December 22. The hour-long musical, adapted and directed by Bill Van Horn (who can be seen in the Walnut's production of "Elf" as Santa!), is based on the classic Charles Dickens novel and features original music with Benjamin Lovell as Scrooge, 825 Walnut Street, Philadelphia. For all ages.
The Comcast Holiday Spectacular returns to the Comcast Center through New Year's Day, shown on the state-of-the-art Comcast Experience Video Wall, one of the largest LED screens in the world, spanning 83.3 feet wide by 25.4 feet high, capturing the essence of the holidays with performances by the Pennsylvania Ballet, Walnut Street Theatre, world-class ice skaters, animated penguins, and more. 15 minute shows begin at the top of every hour, 10am-8pm daily (except for weekdays at 5pm), 1701 John F. Kennedy Boulevard, Philadelphia. Free. Also, look for live performances by Sprout's Chica and her friends from "The Sunny Side up Show" every Saturday in December at 10:30am, 11:30am, 12:30pm, and 1:30pm. Children can receive a free waterless temporary tattoo, valid for a one-time treat from the Market & Shops.
Holiday Garden Railway Display at Morris Arboretum
The Morris Arboretum's popular Holiday Garden Railway Display returns with a quarter mile of track featuring seven loops and tunnels with fifteen different rail lines and two cable cars, nine bridges (including a trestle bridge you can walk under), and bustling model trains. The display and buildings are all made of natural materials (bark, leaves, twigs, hollow logs, mosses, acorns, dried flowers, seeds and stones) to form a miniature landscape with miniature rivers and buildings that are exact replicas of the original including Independence Hall and other Philadelphia-area landmarks, all decorated for the holidays through January 5. New this year is Friday Night Lights, an opportunity to enjoy the display at night on December 13, 20, and 27. On December 7, 2pm, Penn Glee Club performs, 100 Northwestern Avenue in Chestnut Hill.
Adventure Aquarium's annual Christmas Celebration
Adventure Aquarium's annual Christmas Celebration transforms the space into an underwater winter wonderland with larger than life decorations, twinkling lights, glowing trees and gently falling snow, November 29 through January 1. Look for Christmas characters including "Scuba Santa," Rudolph the Red Nose Reindeer, and Bumble the Abominable Snow Monster, with activities that include a tree lighting, Boogie at Gill the Shark's Holiday Dance Party, and more, 1 Riverside Drive, Camden, NJ.
"Lights On!" at Grounds for Sculpture
Grounds for Sculpture, the 42 acre sculpture park and arboretum, kicks off the annual "Lights On! Weekend," featuring workshops, performances by Nassau Brass and the Capitol Singers, children's activities, a holiday tram and more, culminating at sundown as 50,000 lights come on throughout the park, creating a winter wonderland, Saturday, November 30, 12pm-9pm and Sunday, December 1, 11am-6pm. Also, a Holiday Tea Party at the Peacock Café (reservations required), 18 Fairgrounds Road, Hamilton Township, NJ.
Reading Terminal Market Holiday Railroad
The Reading Terminal Market Holiday Railroad returns with almost a third of a mile of track running seventeen working train lines through miniature scenery depicting Center City Philadelphia, a Christmas Village, and other seasonal displays, open daily at 10am through December 31 (closed on Christmas Day), 12th and Arch Street, Philadelphia, free.
Holiday Light Show in historic Smithville
Historic Smithville, New Jersey hosts the annual Holiday Light Show, Thursdays through Sundays, through January 6, as 120 Christmas trees in the lake, made from 50,000 lights, blink on and off to holiday music by the Colonial Inn, 615 East Moss Mill Road, Smithville, NJ. Free.
Chocolate Festival at Dover Downs
Dover Downs Hotel and Casino celebrates the holiday season with the 8th annual Chocolate Festival, Saturday, November 30, 10am-5pm. The family-friendly event features a variety of chocolate and candy exhibitors, an ice carving contest, candy and gingerbread village, arts and crafts marketplace, live entertainment, and more, with free admission for children under 18, adults $5. Also, the Kent County Festival of Trees on display by Delaware Hospice, 1131 North DuPont Highway, Dover, DE.
Penn Museum's Peace around the World
Penn Museum's 18th annual "Peace around the World" holiday celebration is this Sunday, December 1, 1-4pm. Upon entrance, visitors receive a "passport" itinerary that lets them explore the holiday traditions of many cultures from around the world including Kenya (Masai), Brazil, Cameroon, Pakistan and more. Activities include a drum circle with Middle Eastern percussionist Joe Tayoun, Indian dance performance, storytelling, face painting, balloon art, crafts, and much more, 3260 South Street, Philadelphia.
Preservation Hall Jazz Band's "Creole Christmas"
The world-renowned Preservation Hall Jazz Band continues to spread their love of New Orleans Jazz with a "Creole Christmas," Tuesday, December 3, 7:30pm, at Kutztown University. The special holiday performance includes "Blue Christmas," "Swingin' in a Winter Wonderland," "Bells will be Ringin'," and "The Dreydel Song" performed New Orleans-style, in Schaeffer Auditorium, 15200 Kutztown Road, Kutztown, PA.
Brian Sanders' JUNK presents "Snowball"
The world premiere of "Snowball," a Brian Sanders' JUNK family-friendly dance performance about a group of kids who must defeat an evil ice queen, takes to the stage at Annenberg Center, December 4-15. The whimsical, urban fairytale is set to a soundtrack of '80s favorites and explores the realm of childhood fantasy with an interactive performance for all ages that includes a special "Flake-Out" dance and an indoor snowball fight. Audience members who wear all white receive five free snowballs to get started. Opening night celebration on Wednesday, December 4, 6pm-11pm, includes a pre-show reception, exclusive seating and a post-show party, 3680 Walnut Street, Philadelphia.
Second City's Nut-Cracking Holiday Revue
Chicago's legendary sketch comedy theatre comes to World Café Live at the Queen for The Second City's Nut-Cracking Holiday Revue, Thursday, December 5, 8pm. The show features original songs, brand-new sketches, and classic favorites, 500 N. Market Street, Wilmington, DE.
ContempraDance's "Philly Nutt Crak-Up"
ContempraDance Theatre's hip hop dance parody "Philly Nutt Crak-Up" returns for another year of superheroes, kung fu fighting, The Rappin' SugarPlum Fairy, Penn's Angels, and the South Street Rocky-Ettes at the Kingdom of Prussia, Friday, December 6, 7:30pm, Saturday, December 7, 2pm and 7:30pm, and Sunday, December 8, 3pm, at the Wilma Theater, 265 S. Broad Street, Philadelphia. Meet the "nutty" cast after the Sunday performance.
To submit an event to be considered for the Weekly Entertainment Guide email Robin Bloom at artscalendar@whyy.org.
Like us on Facebook to add the Weekly Entertainment Guide to your News Feed.
WHYY is your source for fact-based, in-depth journalism and information. As a nonprofit organization, we rely on financial support from readers like you. Please give today.