'It's long overdue': Gun violence around Philly rec centers makes updates more urgent, residents say
The Rebuild initiative aims to make up for years of disinvestment. Amid the gun violence crisis, some residents say upgrades are not happening fast enough.
Listen
5:37
Working on a solution to gun violence and want to share it? Get in touch with gun violence prevention reporters Sammy Caiola and Sam Searles.
Reggie Johnson goes to Fotterall Square Park in Philadelphia's Fairhill neighborhood almost every day. He picks up trash. He enjoys the fresh air. He talks to any kids he comes across.
"This park is kind of everything to me, and I know it's everything to the people around here," said Johnson, 34, who grew up in an apartment building across the street.
Johnson loves the trees. He says some of them are hundreds of years old.
But the park's leafy canopy is about the only thing that's held up over the years. Near the middle of the square, a banged-up stainless steel slide glimmers in the sun— part of a rusted playground structure that Johnson said largely goes untouched. The basketball court is riddled with cracks.
Recently, employees from the City of Philadelphia came by and zip-tied four large placards to the chain link fence. They depict a new vision for Fotteral Square: bright blue and green plastic play structures, a performance plaza, and refinished athletic areas.
The park is part of the city's Rebuild project, which intends to refurbish 72 of the city's 400 parks, playgrounds, libraries, and recreation centers, with a focus on neighborhoods heavily impacted by gun violence.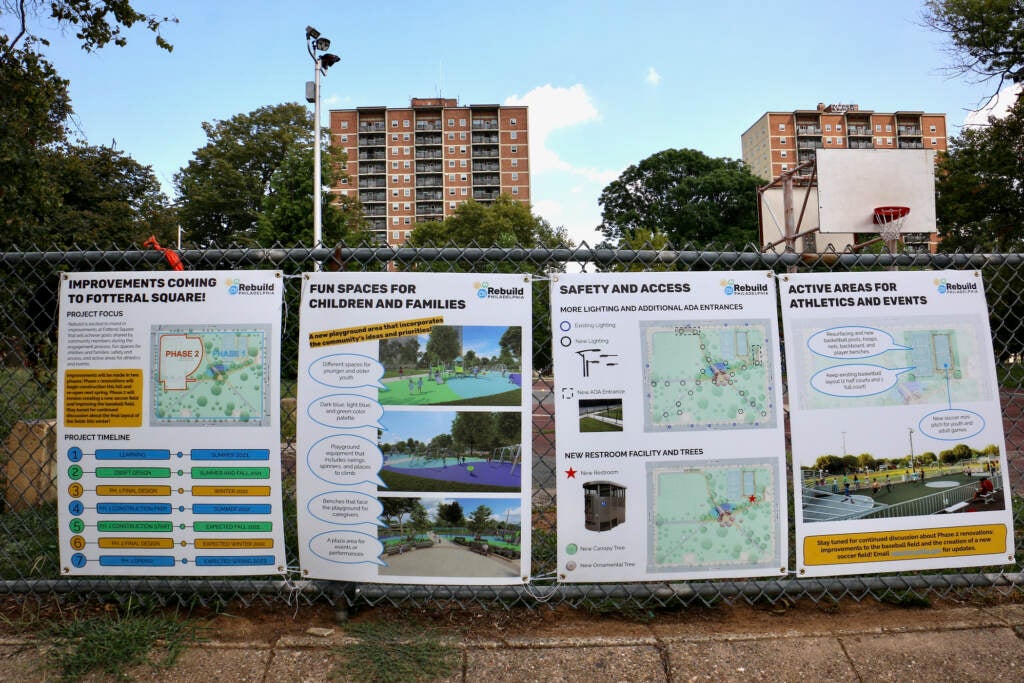 The Rebuild project began in 2017. It's funded by $300 million in projected revenue from Mayor Jim Kenney's sugary beverage tax, as well as a $100 million donation from the William Penn Foundation, plus $25 million that Rebuild has fundraised. The Rebuild team took out $87 million in beverage tax bond funding in 2018 and has spent $56.4 million of that so far, plus an additional $8 million from other funding sources. They haven't requested approval to take out more bonds since, but said they plan to do so in early 2023.
Johnson has been following Rebuild's progress over the last four years, and he's banking on the improvements to keep his neighbors safe. There was a fatal shooting at the park in February of this year.
Many residents believe beautifying and maintaining public spaces reduces the likelihood of gunfire in an area, and there's some research to support that. Kenney has pointed this out, citing the drop in crime that occurred after major renovations to North Philly's Hunting Park neighborhood in 2016.
Many politicians have raised parks and rec centers up as bastions of safety, but incidents like August's mass shooting at Shepard Recreation Center have left residents wary, and many are calling for more attention to the city's public spaces.
"This is a place that used to be a safe haven," Johnson said. "I just see a vision of having that again — because the kids deserve it."
Rebuild staff say they recognize it's a safety issue, and they're doing everything they can to keep construction moving despite some hurdles.
From 2016 to 2018, the project was tied up in litigation because the beverage industry sued the city over the soda tax. Then the COVID-19 pandemic hindered Rebuild staff's ability to host community input meetings and vet and hire contractors.
This past June, City Councilmember Cindy Bass refused to hold a vote on a resolution permitting Rebuild to access more of its bond funding, while seeking additional program dollars for her district.
Now the initiative is back on track and making up for years of disinvestment, said Rebuild executive director Kira Strong, adding that repairs won't happen overnight.
"It's long overdue," Strong said. "It's coming. We want to get it right. It's going to be worth it. Stick with us."
Here's where Rebuild projects currently stand:
Maintenance sends a clear signal: 'Don't do it here'
In January 2022, Karen Harris emailed the Rebuild team about delays to updates on the athletic fields at South Philadelphia's Chew Playground. WHYY News found the correspondence in public records related to the project.
"We have been dealing with this issue for more than three years," Harris wrote. "We have lost some of our children to the streets and can potentially lose other children. We would hate to believe that these Rebuild Projects are based on the neighborhood that one resides in and on skin color, however, when you carefully reflect on these projects, they are happening at a faster pace in other communities that do not reflect our Black and Brown communities."
Strong, the Rebuild executive director, responded with an update on construction, set to begin this fall, and an estimated reopening date of the end of 2022.
"We share your concern and urgency for the need for these projects, and we will continue to launch as many projects as we can to bring these vital sites back to their best condition," Strong wrote.
The order of the projects is determined based on the scale of the renovations and the bidding process for construction contracts. While bigger projects get underway, the team has initiated or finished 35 "first fixes" — quick repairs like a new air conditioner or fixing a leaky pipe — on sites that are slated for more intense construction down the line.
"We are working our way fairly methodically through this list of 72 sites, which is a big lift and frankly, probably the largest capital program the city has put forth in many decades," Strong said.
The 72 Rebuild sites were selected based on metrics related to poverty, crime, and health. These facilities have fallen into disrepair following years of public disinvestment in parks and recreation, while popular Center City parks such as Dilworth Park and Sister Cities Park have benefited from public funding and sustained attention from neighborhood stakeholders.
A lack of public funding leaves a gap, said Alex Doty, executive director of the nonprofit Philadelphia Parks and Recreation Heroes Fund.
"Whether it's about maintenance, whether it's about programming … some communities are going to be able to fill it in, many are not," he said. "The places that are most likely to not have the resources are the places that have the highest poverty rates and have the highest rates of population of people of color. And that's just not right."
Tyrique Glasgow, youth mentor and director of the Young Chances Foundation in Grays Ferry, wrote about the Rebuild program in an op-ed this spring, arguing that the city isn't moving quickly enough to make improvements that could deter crime.
He's been disappointed with progress at nearby Vare Recreation Center, which was originally closed due to roof-related safety issues in 2017.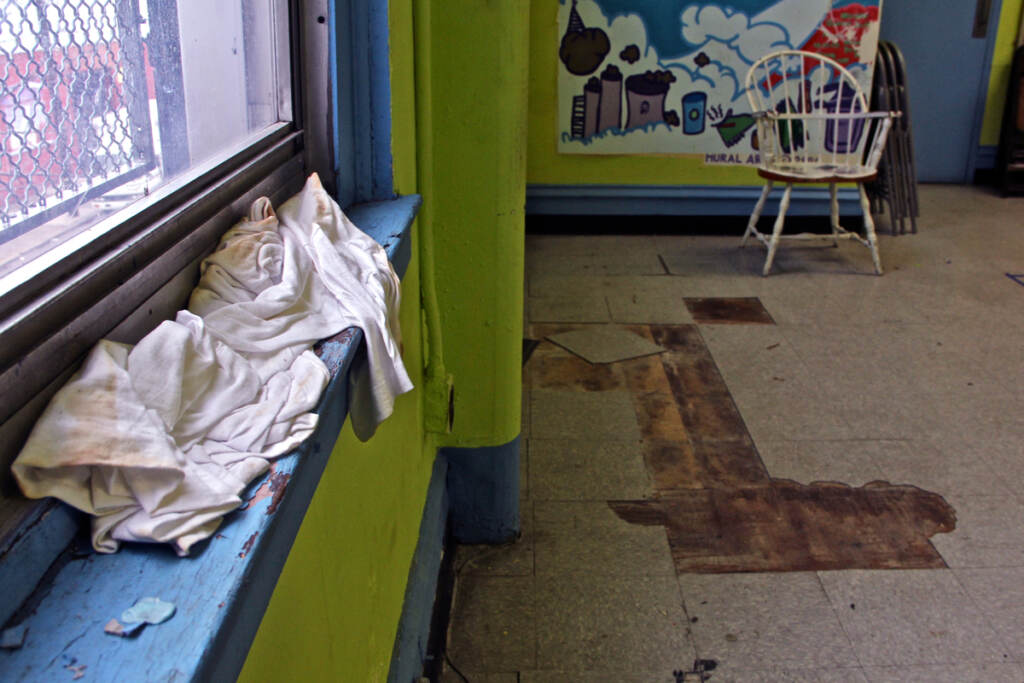 "The process has taken years, and we're talking about going into one of the most violent summers in our city's history," he said in June.
Earlier this summer, Rebuild broke ground on construction at Vare, which involves demolishing the building and creating a new center with an indoor gymnasium, classrooms, and multipurpose community programming spaces.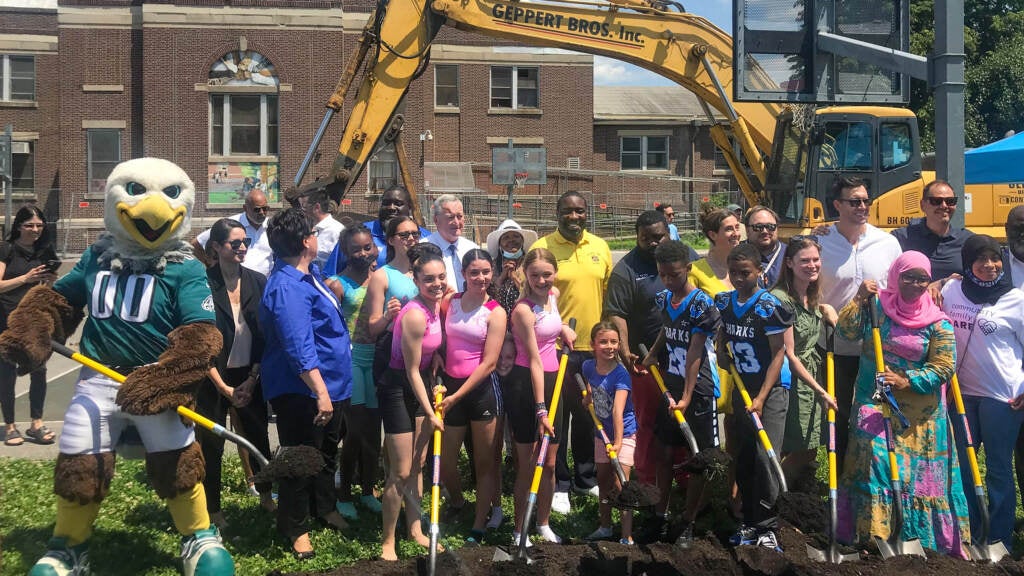 Meanwhile, Glasgow said he's had to find alternative locations for food distribution, dance team practice, and other programs.
"That's unfair to the residents, to the youth, and to people who need those essential services every single day," he said.
He believes that having rec centers open and active prevents gun violence and saves lives — an idea sometimes referred to as the "busy streets" theory.
"That's a place where you don't want to bring trouble," Glasgow said. "It's volunteers, it's people out there who are playing soccer, who are walking their dogs, who are doing what normal citizens do."
In the wake of the Shepard Recreation Center shooting, City Councilmember Curtis Jones said rec centers and playgrounds need to be "sacred spaces."
"We have to send a clear signal to those who would do harm to themselves or others … don't do it here," said Jones.
With a mayoral election on the horizon, Glasgow is worried about Vare construction being lost in the shuffle.
"We're hoping the election doesn't hold it up for political reasons," he said. "Because there's peoples' lives that are depending on the opening of this rec center."
Staffing for safety
Reggie Johnson, of Fairhill, says making the Fotteral Square Park a safe gathering place is going to take a lot more than just building a playground. He says the additional lighting in the blueprint will be a big help, but what they really need is paid staff to keep the area clean and supervised.
"Beautification, number one, that's the top of my list," he said. " I'm just concerned about who's going to look after it."
Rec center repairs are only part of the equation. Residents and lawmakers are also calling for increased security around these facilities, which the Philadelphia Police Department has vowed to provide.
"We're putting $12 million to renovate this space. But what does it matter if we can't keep it safe?" asked Jones following the Shepard Recreation Center shooting.
In that shooting's aftermath, the football team that plays at Shepard has been "really concerned about continuing their practices there," said Parks & Recreation Commissioner Kathryn Ott Lovell in a recent WHYY interview.
"They've been working with the local police district to ensure that there is a patrol and a presence there," she said. "The last thing that we would want would be for programs to feel that they can't continue because of the violence."
Staff at Philly rec centers say their jobs have gotten more complicated in recent years. During the height of the pandemic, they transformed into COVID-19 testing and vaccination sites, food distribution centers, and access points for mental health and legal services. Now, employees in certain neighborhoods have to be trained to react quickly in the event of a shooting.
"We're woefully under budget and Rebuild isn't doing anything to change that," said a former rec center director who asked not to be named out of fear of retribution from their current employer. "It's just a capital project that's taking our outdated facilities and bringing them to what they already should be."
The city's 2023 spending plan does include a small bump for recreation, though it wasn't as much as advocates pushed for. The budget allocates salary funding for only 271 full-time staffers across the city's 300 parks and rec centers.
Engaging community
The Rebuild team has spent a lot of time on the design process. They've been deliberate about it, holding community meetings to make sure to gather input from residents and keeping diversity in mind for contracting hires. Strong said they did some of that work during the period where the funding was tied up by litigation, and they wouldn't have started construction before completing those phases regardless.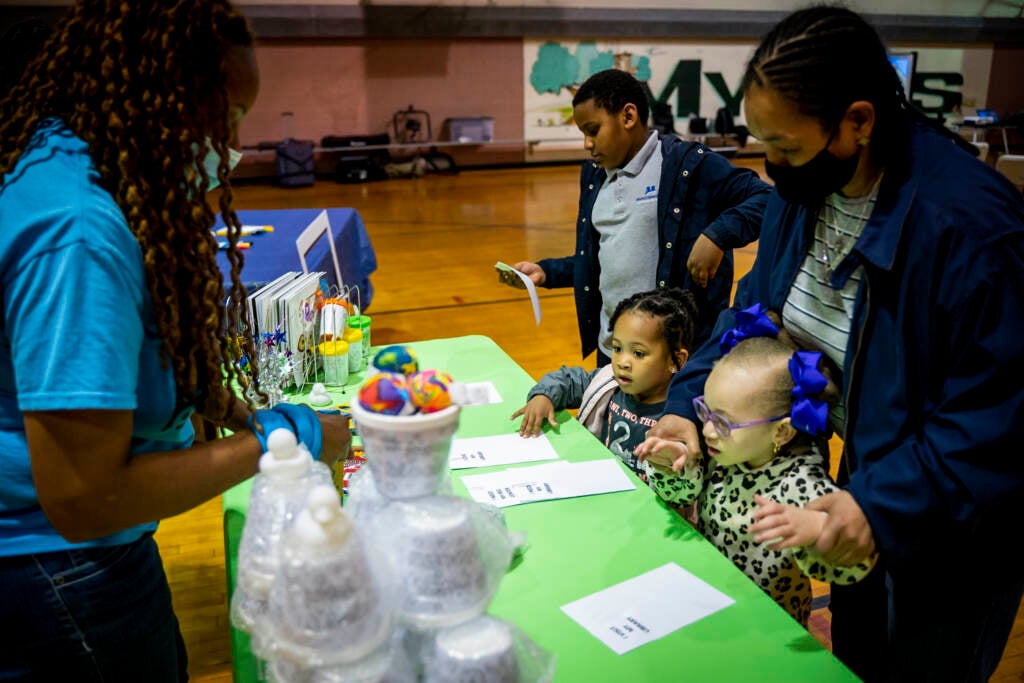 A typical project timeline is 2 to 3 years start to finish, she said.
That includes:
1.5 years of community engagement and design work
a bidding period for construction contracts
1 to 1.5 years of construction
Strong said now that they're shifting into the construction phase on many projects, residents should see more progress.
"We're just waiting for the physical piece to catch up to the energy and the commitment of the staff that are there," she said. "It unfortunately doesn't happen in six months."
The Rebuild team's community meetings open a space for residents to write down their visions on post-it notes and butcher paper.
For example, at Capitolo Playground in South Philly, the Rebuild team added a new gate to the work list at the request of residents. However, the team was not able to accommodate a resident request to add walking paths, according to public documents related to the process.
Graham Bailer, president of Capitolo's advisory council, said that the initial engagement was great, and residents are pleased with their newly re-leveld soccer field — but they would have liked a more "full circle" process with regard to their asks.
"Some of the feedback from the community was positive because we were being asked questions, but then sort of negative in regards to the follow-through on some of those questions," Bailer said. "Probably the biggest problem I have with it was that the process was almost too stringent. There was no real room for flexibility with it."
Glasgow, in Grays Ferry, said he would have liked to see more transparency from the Rebuild team.
"This is basically a new start … rebuilding our trust back into the city," he said. "If you really want us to be involved, come with the truth. Sometimes that's what you have to do to build your relationship."
He said Rebuild's communication about construction updates often "doesn't hit the grassroots or get to the block captains or the faith-based organizations who deal with those recreation centers and playgrounds every day."
Reggie Jones, the Fairhill resident, said his experience with the Rebuild project has been largely positive.
"The staff at Rebuild are really making me feel confident," he said. "They reach out to me, they make me feel confident about the future of Fotteral Square Park."
Earlier this summer, kids and teens bounded across the basketball courts at West Philadelphia's Francis J. Meyers recreation center, their sneakers scraping against a sheet of cleanly graded asphalt coated with two shades of blue paint.
Refinishing the courts in August 2021 was step one of the Rebuild's plans for Myers. It's one of the biggest projects on the site list, with a price tag of more than $20 million. Other major undertakings include Carousel House, Kingsessing's recreation center and library, and Var.
Seven-year-olds Makaylah and Maleyah said they like the new courts. And they've got other big dreams for the facility.
"I just want a kiddie pool, because in case if people can't swim then we'll just go into the kiddie pool," Makayla said.
"I want a big giant field where you can play around and put swings on it … and I want a water slide and I want a fish," Maleyah added. When asked where the fish would live, she had no clear answer.
There's been some push and pull around where children and families can play and gather in Philly this summer. The city denied more than 200 applications for block parties and canceled some play spaces in the Kensington area, citing safety concerns in both cases. Several other groups also made decisions to cancel public events this summer because of gun violence.
After the Shepard shooting, Mayor Kenney urged Philadelphians to keep using their public spaces.
"When you stop doing your normal things …you have given up," he said. "And we will have more of a police presence around those events and around these centers to make sure that there's at least a visual that the criminals see which might make them hesitate."
Rebuild expects to hold ribbon cuttings at dozens of rec centers over the next year as construction wraps up at some sites and breaks ground at others.
If you or someone you know has been affected by gun violence in Philadelphia, you can find grief support and resources here.

WHYY is one of over 20 news organizations producing Broke in Philly, a collaborative reporting project on solutions to poverty and the city's push towards economic justice. Follow us at @BrokeInPhilly.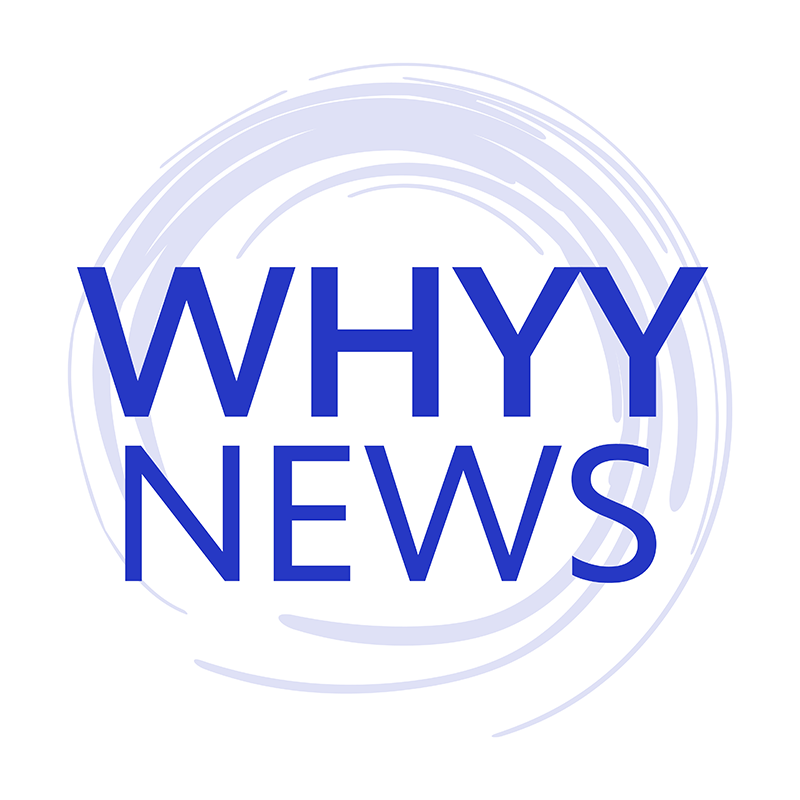 Get daily updates from WHYY News!
WHYY is your source for fact-based, in-depth journalism and information. As a nonprofit organization, we rely on financial support from readers like you. Please give today.