Gathering to talk about N.J. election, some Paulsboro voters take deep dive into issues
Listen
6:00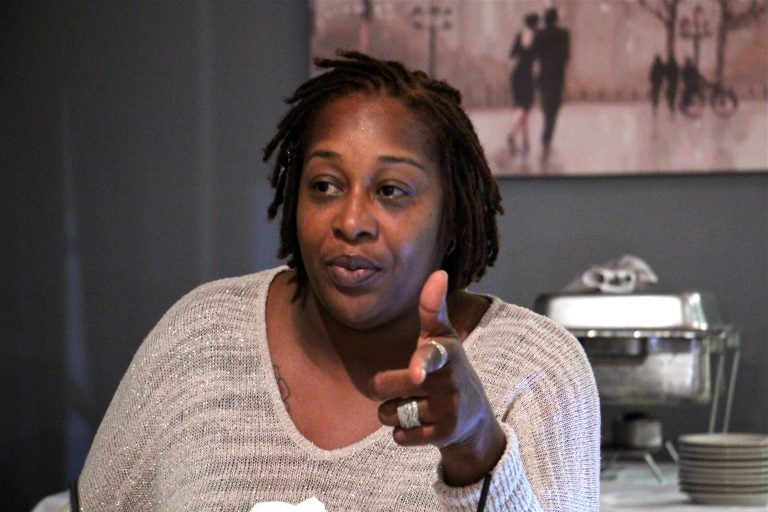 On Tuesday, voters in New Jersey will select a new governor to replace Chris Christie. After serving two consecutive terms, the Republican must now step down.
Ahead of Election Day, WHYY teamed up with other news outlets to speak with voters across the state about issues affecting them. Voting Block is a collaborative reporting effort; WHYY's partners include WNYC, WBGO, NJ Spotlight, and The Record of the USA Today Network.  The Center for Cooperative Media at Montclair State University and Reveal from The Center for Investigative Reporting coordinated the efforts.
"This project looks at different issues through a variety of lenses," said WHYY reporter Joe Hernandez, who's been talking to voters in Paulsboro.
Hernandez has spent quite a bit of time talking to voters in the small, blue-collar borough, located in Gloucester County, directly across the Delaware River from Philadelphia International Airport.
"We (reporters) each kind of embedded in a different town, and we tried to tell the story of this campaign through how it was being explained by the people living in these towns," he said
He met with residents at debate parties and other gatherings to hear them out on all sorts of matters — everything from crime and jobs to transit and taxes.
"Traditionally, industry has been shrinking or moving out," Hernandez said of Paulsboro. "The town is in an interesting moment of trying to reinvent itself. It's trying to attract new businesses, and it's also trying to attract new homeowners because a lot of them … have now moved away, and their houses are being rented."
Voter and Paulsboro resident Christa Cooper participated in Voting Block.  In a group setting, she watched the first gubernatorial debate between candidates Democrat Phil Murphy and Republican Lt. Gov. Kim Guadagno.  Cooper's neighborhood has been experiencing an uptick in crime, she said, and the project was a way to talk about that.
"That's the part that I think that I'm coming to realize, that you gotta step out of your box. Talking to Joe, it's like, I've learned a little bit more when it comes to this, letting your opinion be heard," she said. "It can't be something that you just sit behind the walls and you talk about. You gotta be boisterous, and you gotta be out there."
For the project, Hernandez spoke with Paulsboro Mayor Gary Stevenson who wants his town to move forward and regain jobs and citizens. Stevenson has been keeping tabs on what neighboring regions — including Camden — receive in terms of pragmatic and financial support. He admits, at times, that hurts.
"Do I get upset when I see Camden getting $10, $15, $20 million to rehab neighborhoods and I get nothing? You're darn right I do," said Stevenson. "They need to spread that wealth around a little better to the smaller towns and not just concentrate on the big cities."
To hear more about Voting Block and how it's getting people talking in Paulsboro, click on the audio button above.