4-alarm fire reported at Columbus Farmers Market in Burlington County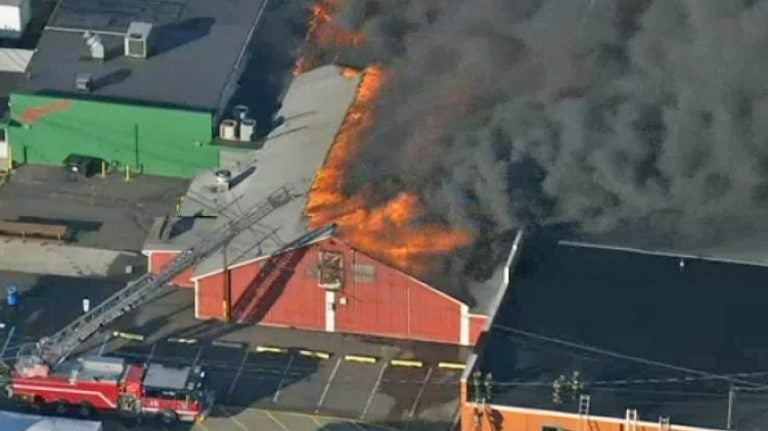 Fire tore through a popular South Jersey farmers market and flea market Tuesday afternoon.
Flames broke out shortly before 2 p.m. at Columbus Farmers Market — a Burlington County staple that sits along Route 206 near Columbus Jobstown Road.The fire at the historic market quickly spread to four alarms. Mostly volunteer firefighters battled the windswept blaze that sent thick smoke out onto Route 206.The smoke and flames caused crews to close Route 206.
As SkyForce10 hovered overhead you could see heavy flames pouring from a large red barn — a retail area — at the market, which claims to be the "Delaware Valley's oldest and largest flea market."
"The wind is very heavy right now and its blowing strongly from west to east so the smoke from the building is blowing horizontally across the parking lot to Route 206," said Springfield Township Mayor Denis McDaniel.
There were no reports of injuries and the market wasn't open at the time of the blaze.
The fire appeared to start in the main building of the farmers market, according to workers at nearby Stoney Brook Garden Center."I've been going to this market since I was a small boy in the '50s," said McDaniel. "It's very important, it's the largest shopping are in the whole township — it's one of the largest in this part of the county."
The facility includes indoor pavilion stores, an all-weather outdoor flea market, a self-storage facility and antique mall.
The farmers market began as a cattle and horse auction in 1919 and 10 years later moved onto a 30-acre site in Columbus, according to the market's website.
Fire devastated the market twice before — in 1968 and 1972, according to the market. In 1988, Columbus Farmers Market, LLC purchased the market and expanded the grounds to 200 acres.
The indoor market is normally opened Thursday through Sunday while the outdoor market opens year round on Thursdays, Saturdays and Sundays. The market even expected to open on Thanksgiving Day from 7 a.m. to 3 p.m. for shoppers looking to buy their holiday meals.
McDaniel said it's too early to talk about the future of the site.
Related: Columbus Farmers Market is a shop-till-you-drop kind of place
______________________________________
This story first appeared on NBC10, which is a content partner with NewsWorks.org