Education and conditions in juvenile detention remain poor, advocates say
The number of Philadelphia kids sent to juvenile detention facilities has dropped, but advocates say the conditions inside those facilities remain poor.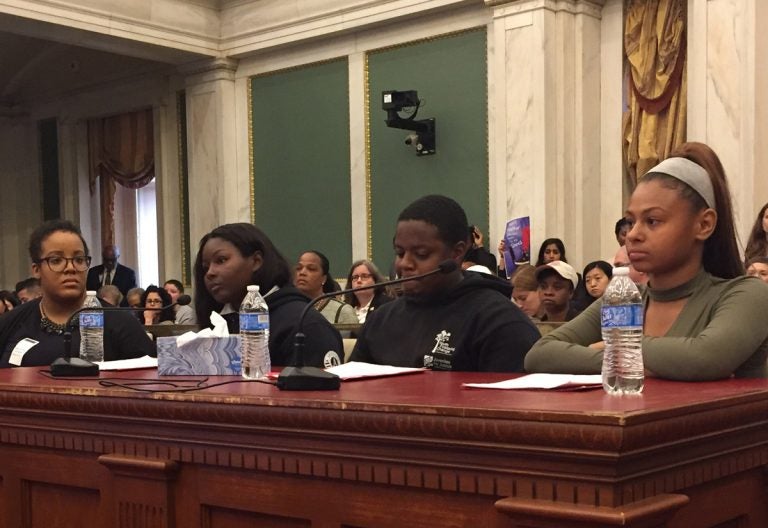 One day, a guard caught North Philadelphia native Jihid Mayes using social media at a juvenile detention facility when he was supposed to be doing school work.
Punishment was swift and forceful.
The guard asked him to step out of the classroom.
"As soon as I stepped out of the room, one guard held me, and another punched me," Mayes said Thursday in a hearing before Philadelphia's City Council. "Then they made me go back to class."
Mayes never told anyone, he said, partly because he wasn't sure he'd be believed and partly because guards bribed students to keep quiet by sneaking them snacks.
Mayes' testimony was among many chilling accounts delivered at Thursday's council hearing, which focused on conditions at youth placement facilities. The hearing comes 19 months after a guard at a residential facility for troubled children in West Philadelphia killed 17-year-old David Hess. It also comes amid a steep drop in the number of children sent to these facilities, either by the courts or through the child welfare system.
At present there are approximately 900 Philadelphia children in residential placement. Some are in the juvenile justice system. Others end up at institutions due to extreme behavioral problems. The city has worked to reduce those numbers, and between 2012 and 2016, the number of delinquent youth in residential facilities declined 41 percent.
Advocates, however, say those still in the system suffer from over-aggressive disciplinary practices, inadequate schooling, and a system that lacks coordination and proper oversight.
Beatriz "Lilly" Jimenez, 16, entered the delinquency system at 13 and said her first placement was at a facility with no formal school. Instead, she and her peers spent most of the day in an unadorned room.
"There was no teacher, no books, just a TV – and even that was only on when staff wanted to watch TV," Jimenez said.
Jimenez twice found worms in her food, she said, and was once intentionally burned by a staff member with a flatiron.
Aqilah David was sent to a facility due to truancy problems, and while there received school work "at a fifth-grade level," she said, despite entering as a high-school junior. All students, regardless of grade, received fifth-grade work, David testified.
Activists and officials say there's little oversight of the education students receive while in residential facilities, even though districts have to pay for the services. The School District of Philadelphia estimates it spends about $30 million annually on students in detention and treatment facilities.
Karyn Lynch, the district's chief of student support services, testified that many students get classified as special education once they enter the facilities, presumably, she said, because it triggers larger district payouts.
"When the student is special education identified the rate [the facilities] will receive is higher," Lynch said.
Neither the district, nor the city's Department of Human Services (DHS) has the authority to monitor the educational offerings at residential facilities, according to Lynch and DHS commissioner Cynthia Figueroa. That job belongs to the state's Department of Education, which checks on programs once every six years, according to Councilwoman Helen Gym, and looks primarily at whether facilities are meeting the needs of special education students under the federal special education law.
Problems can also arise when students return from placement and attempt to re-enroll in traditional schools. Sometimes districts struggle to get records from residential facilities, and other times there's simply no documentation of progress, said Maura McInerney with the Education Law Center.
"Some on-ground schools do not even award credits at all, guaranteeing that students who are already falling behind academically due to the poor quality of the school will also fall behind in their progression towards graduation," McInnerney said Thursday.
Citing a study from Project U-Turn, a local coalition focused on dropout prevention, McInerney said that about two-thirds of students who enter the juvenile justice system fail to finish high school.
WHYY is your source for fact-based, in-depth journalism and information. As a nonprofit organization, we rely on financial support from readers like you. Please give today.