Despite high poverty, why fewer people live on Philly's streets than in other big cities
Philly is one of the poorest cities in the country, but it's street homeless population is one of the smallest. What's driving this counterintuitive dynamic?
To hear more about this story, check out this episode of The Why.
—
Shareda Green sat dumbfounded inside a drab, unmarked office on Fairmount Avenue in Philadelphia. More than two hours into her weekday shift at the Project HOME Outreach Coordination Center, the veteran dispatcher hadn't assigned a single homeless outreach team to talk to a single person about getting off the streets.
"This is the longest I've ever seen this phone not ring," said Green on a recent Monday evening.
The silence didn't last long. Once 6 p.m. rolled around, calls for help started trickling in.
Green sent one team out to Spring Garden Street after a homeless man called the center looking for shelter for the night. Ten minutes later, a different team was sent to Broad Street after someone called to report two women lying on the steps of a church.
"We're going to offer them shelter, but if not, maybe a blanket," said Green, who has also experienced homelessness in the past.
"Once a person is on our radar, we'll keep circling, hoping one day they'll say, 'Yeah.'"
By 11 p.m., the center, a near round-the-clock operation run with the help of city funding, logged 16 response calls.
At the height of winter, the total can balloon to 200. But on most nights, two dispatchers and 14 outreach workers provide enough manpower to handle all the incoming calls.
The outreach center's manageable call volume underscores a counterintuitive fact about Philadelphia: While the city has the highest poverty rate out of the country's 10 largest cities, it has the smallest street homeless population in that group.
More than one quarter of Philadelphia residents — roughly 400,000 people — live below the poverty line. As of January, 1,083 people live on the streets, according to city data.
Compare that to Los Angeles — a city almost three times the size of Philadelphia — which has a poverty rate of 18.6 percent and a homeless population of 22,887.
"It's impossible not to be a little overwhelmed and impressed by the problem there," said Dennis Culhane, a professor at the University of Pennsylvania, who has studied homelessness for the last two decades. "It's a scale different than what we're experiencing here" in Philadelphia.
There are myriad reasons why Philadelphia, with its stubbornly-high poverty rate, does not have more unsheltered homeless people.
The outreach coordination center — launched in the mid-1980s by Project HOME, the most high-profile organization fighting homelessness in Philadelphia — is a major one.
Outreach is typically the starting point for transitioning people off the streets into a place of their own.
Experts who study homelessness say having all of Philadelphia's outreach teams under roof to respond to calls in designated sections of town is the most efficient and effective model for connecting outreach workers to people living on the streets.
Often, convincing people to say "yes" comes down to an outreach worker meeting them at just the right time, especially for people struggling with mental illness, addiction, or both.
"If I'm doing a little [heroin], I'm more susceptible to help," said Robert Fifer, a longtime heroin user. "If I'm doing a lot, you don't hear nobody."
'Please come in'
Another important element of effective outreach work: persistence.
David Brown lived on the streets for 25 years before moving into a subsidized studio apartment in 2011.
For the 15 years leading up to that moment, Brown slept inside an empty refrigerator box near the Benjamin Franklin Parkway, alongside a couple dozen other men. The 63-year-old said he didn't consider leaving the encampment until a pair of outreach workers from Project HOME started coming around.
"They came everyday and they came with the same message: 'please,' " said Brown.
"That's the key word, 'Please come in. Please come in, we can help you.' They didn't come, 'Yo man, what's your Social Security number? What's your name?'"
Without their persistence, Brown is convinced he'd be dead. When the outreach team from Project HOME showed up seven years ago, he was in a "terrible state."
"I was sick, medically. I must have weighed maybe 110. Now, I'm 275," said Brown.
Of the original group of men that he lived with all those years, Brown says only one is alive today.
Philadelphia's diverse menu of housing models for the homeless — including the facility where Brown lives now, the James Widener Ray Homes — offers another explanation for the city's comparatively-low street homeless population.
"We try to have a system that meets the different needs of different people, a person-centered approach," said Elizabeth Hersh, who directs the city's Office of Homeless Services. "We also embrace and data about what works, build and support programs that have been shown to be effective in getting results."
For people who are chronically street homeless like Brown, as well as a growing number of young adults who find themselves without consistent shelter, Philadelphia offers permanent supportive housing, a model that comprises roughly half of the city's 10,000 homeless beds.
The rest of the system consists of more temporary options, including emergency shelters, safe havens for those with mental illness, and programs that offer support services and help with rent for a limited time while people transition to living on their own.
Unlike those models, permanent supportive housing gives people a place to live indefinitely, as long as they can chip in enough for rent, which is subsidized by the Philadelphia Housing Authority.
Participants get their own apartment and have access to "wrap-around services," including mental and physical health services, help getting a GED or applying to college.
The fight for permanent supportive housing
Philadelphia was an early adopter of permanent supportive housing, and continues to embrace it thanks, in no small part, to a high-stakes, if wonky, legal battle involving Project HOME, neighbors, elected officials, and the federal government.
In 1990, Project HOME was on track to buy a building at 1515 Fairmount Avenue — now the nonprofit's headquarters and the location of the outreach coordination center. The organization wanted to open a permanent supportive housing program serving homeless people with mental illness.
But neighbors weren't pleased with the plan and pushed back with support from then-City Council President John Street.
"[Residents] had been impacted in a very negative way by drugs and they were afraid that if Project HOME came that that would further deteriorate the neighborhood," said Sister Mary Scullion, who leads Project HOME and has been working to help people off the street since 1985.
The roughly three-year battle started as a local zoning dispute and ended in federal court after Project HOME sued the city for discrimination.
The nonprofit won, and then withstood an appeal. The legal fight ended when the city decided not to try its luck with the U.S. Supreme Court.
"It was really emotional because we had put in a lot of time and effort into this," said Scullion.
But tensions around the issue continued to swirl.
The courts had found Philadelphia violated federal housing law by discriminating against homeless residents with mental disabilities, which put its federal housing dollars at risk.
When a reporter asked then-Mayor Ed Rendell, who had publicly claimed he supported permanent supportive housing, about the money, he lashed out.
"Rendell said, 'You're wrong' and then clamped his hand on the back of my neck," said Philadelphia Inquirer reporter Amy Rosenberg in an email. The scene was witnessed by author Buzz Bissinger, in the midst of trailing Rendell for his book, "A Prayer for the City."
Ultimately, Scullion and others say winning in federal court opened the door for more permanent supportive housing projects in Philadelphia — with little opposition from neighbors or the city, which is now one of Project HOME's biggest supporters.
Relatively affordable housing
Philadelphia's traditional housing market has also played a significant role in keeping the city's street homeless population low.
While rents in some neighborhoods have skyrocketed over the last decade amid rapid redevelopment, the city is still considered one of the most affordable in the country — even if low-income residents can often only afford to live in illegal boarding houses and old homes that lack basic amenities like working plumbing.
A studio apartment in a trendy neighborhood can fetch $1,000 a month or more, but there are still areas where a three-bedroom house is rented for the same amount or less.
That means even if someone can't afford a place of his or her own, it's possible to find someone to split the rent, keeping him or her off the streets.
This scenario isn't possible in big cities with tight housing markets such as San Francisco, where the average one-bedroom apartment is more than $3,000 a month.
"There's nothing to filter down to the low-income households. They've been squeezed out of the area and have been forced to move into other places," said Culhane, the Penn professor. "And part of it is that people are going into street homelessness."
On the West Coast, there are cities where well over half of the homeless population lives on the street. In Los Angeles, the unsheltered rate is nearly 75 percent.
In Philadelphia, it's less than 20 percent.
"It is definitely legitimate to say that Philadelphia can accomodate people with deep poverty better than other cities," said Culhane.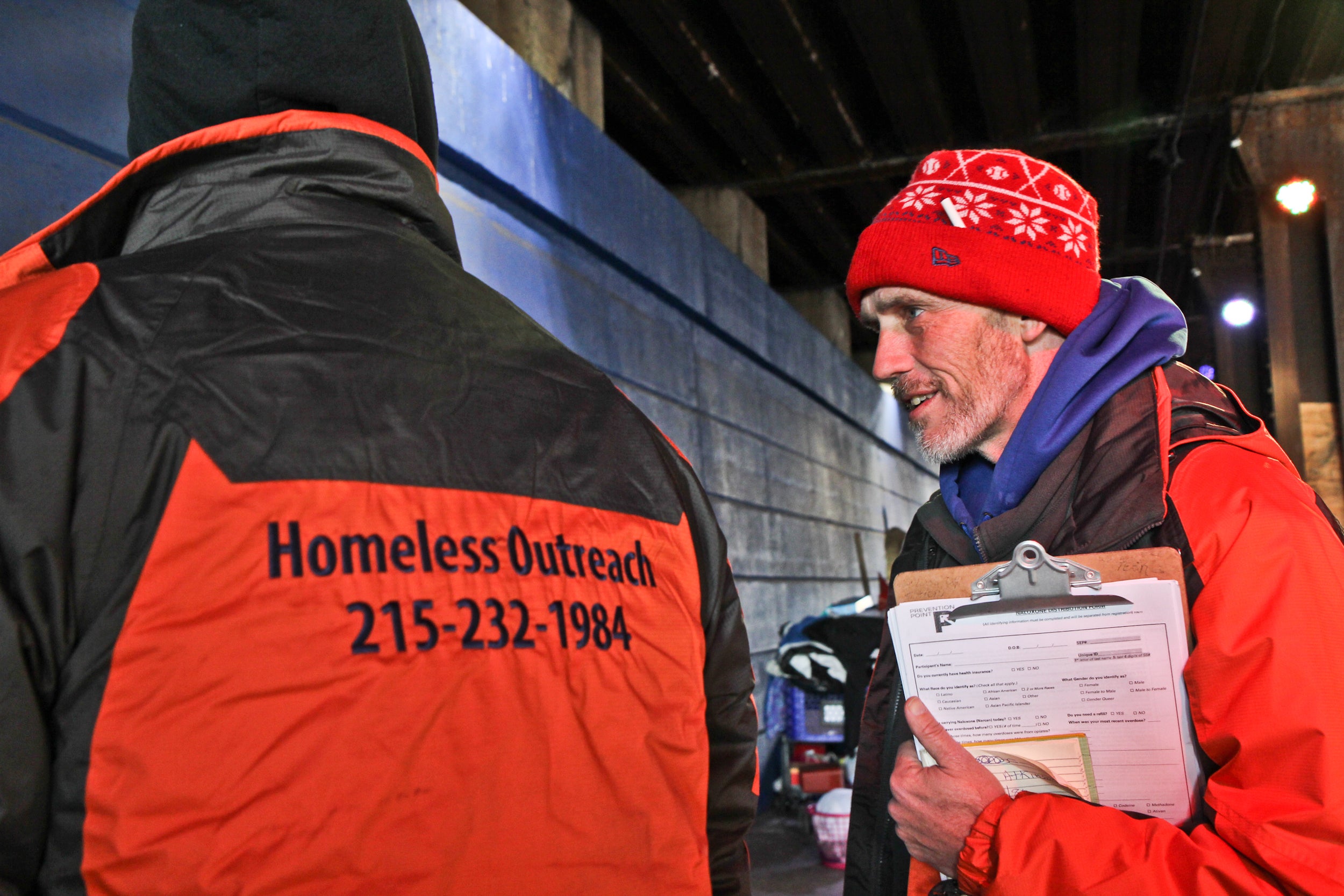 Homelessness in Philly on the rise
Despite all of these resources and the city's relatively affordable housing, the number of people living on the streets in Philadelphia has been on the rise, almost doubling over the last five years amid the city's opioid crisis.
In addition to the roughly 1,000 street homeless, there are about 5,000 people living somewhere in the homelessness system, and 15,000 who experience homelessness — even briefly — at some point in the year, according to federal data.
Moving through that system to a permanent home is often a circuitous and bumpy path.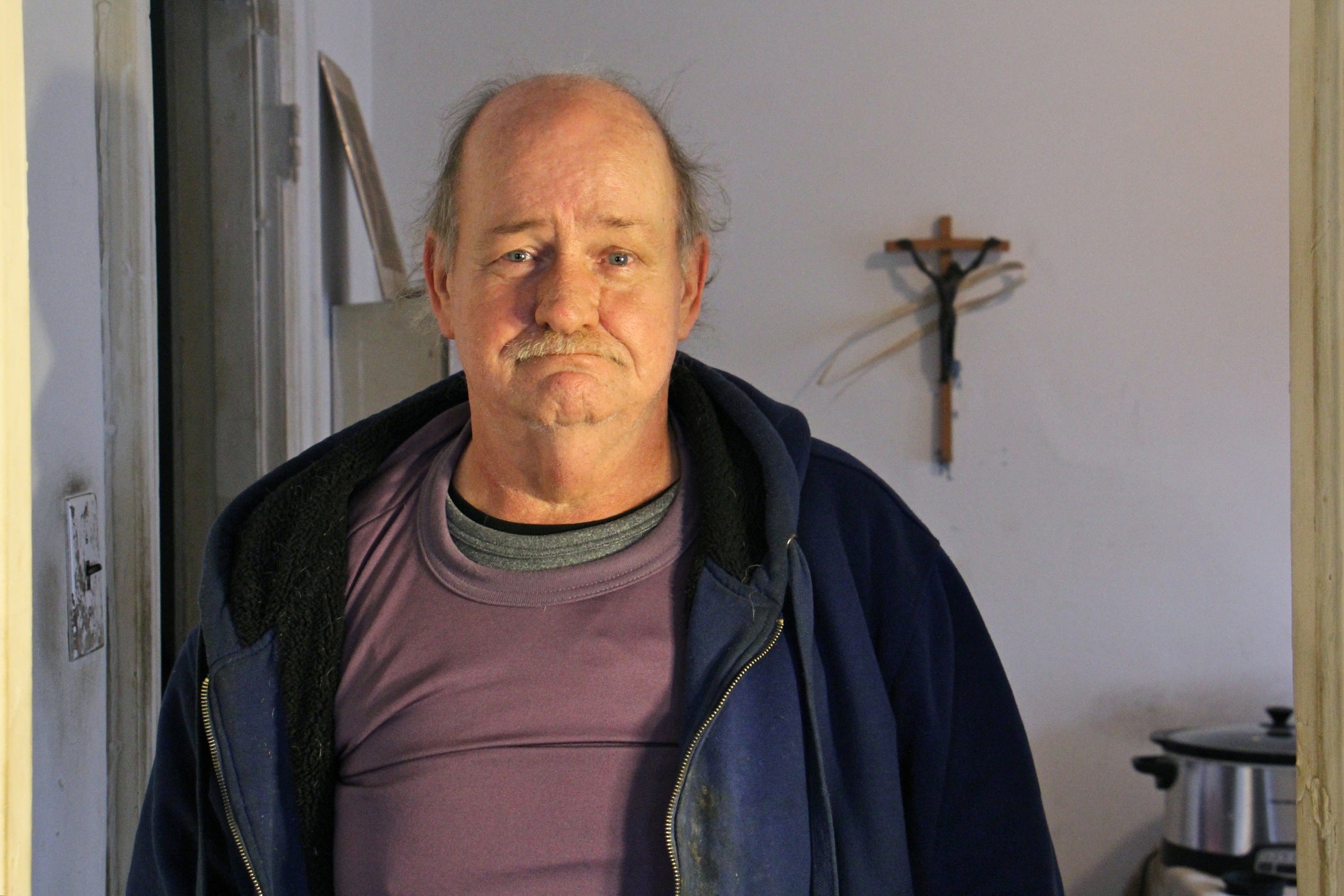 Mike McAllister, who struggled with addictions to drugs and alcohol, lived on and off the streets for roughly a decade until 2012.
McAllister said there were frequent fights at the city's emergency shelters and, at one stop, a fatal stabbing one bed away from where he sleeping.
At a different shelter, McAllister was handed a head-scratching ultimatum after missing curfew after a shift at a warehouse job in the far Northeast.
"By the time I got back to the shelter, it was five o'clock in the morning. They told me, 'If you want to stay here, you have to quit the job.' I looked at them and said, 'How am I supposed to get back on my feet if I'm not working?' "
But he looks back fondly on his experience with the city's outreach teams, and One Day At A Time, the residential program in North Philadelphia that landed him a case manager and, after 13 months, a voucher for an apartment.
McAllister now lives rent-free in a one-bedroom unit in Frankford, thanks to a subsidy from the Philadelphia Housing Authority. He has no plans to leave the place he's called home the last six years.
"I'm going to die here," he said.
For McAllister, that's not a morbid thought. They're happy words steeped in the relief that that he never has to sleep on the street again.
—

WHYY is one of 22 news organizations producing Broke in Philly, a collaborative reporting project on solutions to poverty and the city's push toward economic justice. See all of our reporting at brokeinphilly.org.
WHYY is your source for fact-based, in-depth journalism and information. As a nonprofit organization, we rely on financial support from readers like you. Please give today.