Christie vetoes portion of bill making it easier for N.J. kids to get medical marijuana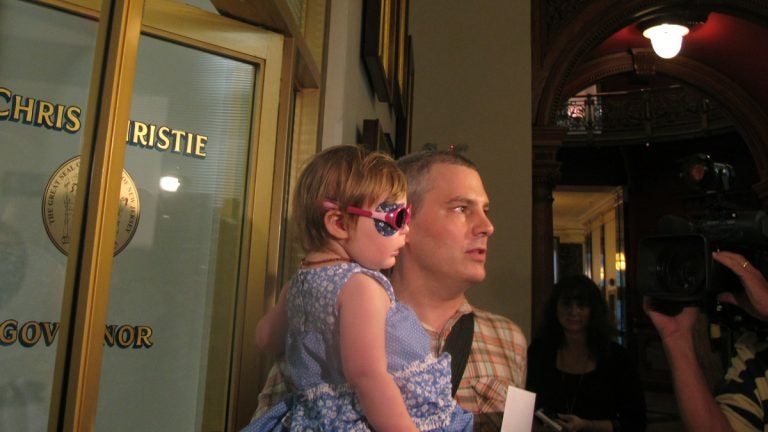 New Jersey Gov. Chris Christie has conditionally vetoed a bill that would make it easier for children to participate in the state's medical marijuana program.
The measure, approved by lawmakers this spring, would reduce the number of doctor recommendations required for minors to get a prescription, putting it in line with adults. Christie rejected that portion of the bill Friday afternoon, but did approve other provisions that would permit the state to cultivate more varieties of marijuana and dispense it in edible form.
In the past, the governor had expressed concern about easing marijuana restrictions. In a statement issued Friday, he described his decision as "common sense," in that it maintains safeguards ensuring "these forms will only be available to qualifying patients," while also putting parents, "not government regulators," in control of deciding how to care for their children
'A huge step'
Parents of sick children have been pressing the governor to sign off on the legislation. They've brought thousands of letters of support, in person, to the state Capitol.
South Jersey resident Tina Marie DeSilvio was one of them. She says the strain of marijuana that's currently available wouldn't help her 13-year-old daughter, Jenna, who has a rare brain disorder.
"This is a huge step," says DeSilvio. "I am very blessed and I feel like a weight's been lifted."
Drug policy advocates are also pleased with Christie's decision. But DeSilvio and other parents still worry about the difficulties ahead. They'll still have to obtain three doctor referrals, including one from a psychiatrist.
"It's not easy," says DeSilvio. "You make an appointment with a specialist, especially in pediatrics, you are looking at three to nine months, or upwards of a year [wait], especially if you find a doctor that's going to be signing off on medical marijuana."
And some disappointment
Scotch Plains resident Brian Wilson sought medical marijuana for his 2-year-old daughter who suffers frequent seizures from a several strain of epilepsy. While she has the needed doctors' approvals and will be able to get the medicine she needs, he's disappointed with the governor's conditional veto.
"While we would have accepted just the pediatrician as a compromise, keeping the psychiatrist in there is just a slap in the face for parents who are facing so many hardships already. These children don't talk, don't go to school, or have severe issues," he said. "A psychiatrist is just a roadblock, and parents are going through enough."
Tracie Anderson of Middlesex is in a similar boat with her 6-year-old, who also has a serious brain disorder.
"I'm not going to leave the doctor in Philadelphia, but now we have to go and talk to all these other people, tell my story of why he needs it… and I don't know if there's really a lot of doctors willing to do it," says Anderson.
Now that Christie has conditionally vetoed the bill, it will go back to the Legislature where lawmakers must approve the governor's changes for the measure to become law.