Chris Christie's Superstorm Sandy recovery leaders rarely heard from
Listen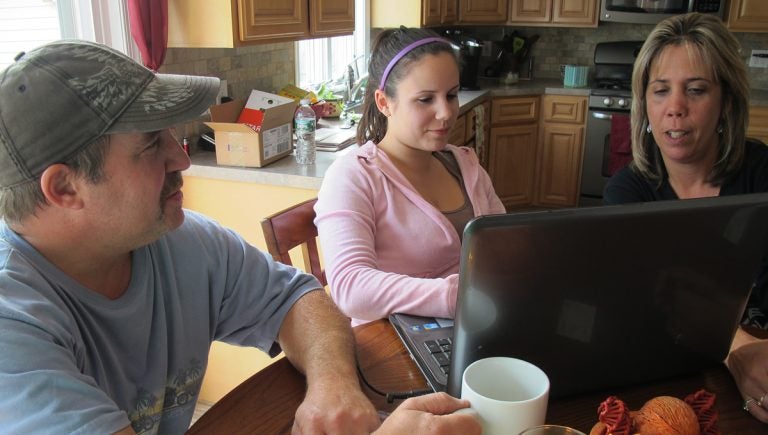 Simone Dannecker grew increasingly emotional as she described her predicament to state lawmakers. Sandy had caused thousands of dollars in damage to her home, and in the course of paying for repairs, she and her husband had fallen behind on their mortgage. After living in Union Beach for 43 years — her entire life — she was now battling her bank to avoid foreclosure.
"Do I fight to keep the home I've lived in and raised my kids in for the last 18 years, or do I let them have it and walk away?" she wondered aloud. Her voice started to quiver.
Dannecker said she worked part time as a bank teller, but that filling out applications for grants and government aid had virtually become like another part-time job these past few months.
"We're so caught up in the bureaucracy of red tape, and you get so many different advisors when you get on a phone call. Never once have I spoke to the same person," she complained. "And you get pushed along and pushed along. And you don't understand what it's doing to homeowners mentally, physically, and emotionally."
State Assemblywoman Grace Spencer thanked Dannecker for her testimony and said she'd do her best to help. Sen. Bob Smith agreed. "Your story is a horror story, there's no question about it," he said. "We're going to be forwarding this information to the appropriate parties and saying 'why is the state not doing its job for you?'"
But as the lawmakers sat there at the Atlantic City Convention Center in August — the first of four hearings they'd hold on the Sandy recovery — the Christie administration officials most responsible for the storm recovery were nowhere to be seen.
"We invited Marc Ferzan, the governor's 'Sandy Czar' to be here today. He has not indicated a willingness to come," Sen. Smith announced at the beginning of the meeting. Ferzan and Department of Community Affairs Commissioner Richard Constable were invited to another hearing in Trenton the following month, and both again declined to attend, citing scheduling conflicts. They also failed to appear at a third hearing a few weeks later in Toms River.
In his campaign for reelection, Gov. Chris Christie has been touting his accomplishments helping New Jersey recover from Sandy. But a year after the storm, a complete picture of the state's progress is clouded by the difficulty in getting key information from the administration, such as how determinations are made regarding who gets aid and how the recovery effort is being run behind the scenes.
After repeated delays getting answers to its questions about how grants were being awarded, the Fair Share Housing Center recently filed a lawsuit to compel release of the information. Meanwhile, state lawmakers are now threatening to use their subpoena power to get the answers they need.
At each of the Sandy hearings — jointly held by the Senate Environment and Energy Committee and the Assembly Environment and Solid Waste Committee — storm survivors shared similar stories of battling with their insurance companies, getting inaccurate information, and filling out lengthy grant applications, only to be told their paperwork was later lost. After spending months waiting for aid money promised by the state to arrive, many also expressed frustration with the slow pace of progress.
As the head of the DCA — which is responsible for distributing billions of dollars of federal Sandy aid — Commissioner Constable is in a perfect position to answer many of the questions that have been raised at the hearings, respond to some of the criticisms, and offer explanations on behalf of the state.
Marc Ferzan is similarly qualified, since he was appointed by Christie last November to head the Governor's Office of Recovery and Rebuilding, which oversees the entire recovery process. But so far, Ferzan has only made one, semi-public appearance, at a talk before members of the State Chamber last April. Questioned afterward about the fact that he had never answered questions from the press or held a press conference since he assumed his position, he pledged to make himself and his department's work more accessible in the future. "We're building transparency into the process. And that's all being done in real time," he said, "so I think the public will have visibility, not only to the programs but to the money and the spending."
Ferzan said he'd be open to a sit-down interview, but six months after that promise, the Governor's Press Office has yet to make him or members of his staff available. Nor has Ferzan made any additional public appearances. His Deputy Terrence Brody did, however, respond to an email inquiry back in July, in which he explained that the Governor's Office of Recovery and Rebuilding (GORR) "is involved in coordinating just about every recovery and rebuilding initiative with the Governor and the Governor's key cabinet and departments. The work ranges from endless hours of negotiating with the federal agencies on program design for the Sandy aid package, to engaging stakeholder groups on repetitive flooding solutions and hazard mitigation options, to prioritizing infrastructure projects," he wrote, adding that "GORR's job is to help prioritize, design, and promote progress and implementation of the State's recovery and rebuilding plans and programs."
He went on to explain that the office had established a number of working groups to address critical recovery areas, including housing solutions, economic revitalization, health and social services programs, natural resource revitalization, and technical/planning support for communities. Additional questions were referred to the governor's press office. Christie told "The Press of Atlantic City" recently that Marc Ferzan's job is to work behind the scenes, and that he didn't have time to be a "show horse." Christie, of course, is the public face of the administration, but while he's made dozens of public appearances throughout the state in the weeks leading up to the Sandy anniversary, he hasn't taken any questions from the press for over six weeks. Christie also said in a recent interview with the Associated Press that the reason he hasn't sent administration officials to testify at any of the Sandy hearings is because he felt they were being run by Democrats simply out to score political points. Sen. Smith disagrees. If the hearings seemed skewed, he said, it's because he and his fellow committee members can't get the administration to come to defend and explain themselves.
"You know, this is a sensitive time in New Jersey because everybody's running for reelection," said Smith. "So maybe this is a defensive move to not have to deal with the questions. I don't know what the reasons are, but I don't think it's in the best interests of New Jersey for us to be stonewalled. They need to come out and tell us what's really going on."
He and his fellow lawmakers have mailed a list of questions to DCA Commissioner Constable and filed an Open Public Records Act request, seeking more information on a variety of Sandy recovery matters. After exhausting all other options, they're also now entertaining the thought of issuing subpoenas to compel Ferzan and Constable to testify in the future.
In the meantime, Simone Dannecker's situation has gotten slightly better. After she told her story to lawmakers at their first hearing in Atlantic City, her bank approached her and agreed to stop the foreclosure proceedings and negotiate a loan modification. But she's still battling with her insurance company to get money to elevate her house.
Giving an update on her circumstances at the committee's September 30 hearing in Trenton, she echoed the concerns of some of the lawmakers about the transparency of the recovery process. "Where is Mr. Constable?" she asked, complaining that "we're employing people in this state who can't even attend a meeting. "The people who are being appointed to these positions are not being held accountable and are not standing up," she said.
_____________________________________________
Scott Gurian is the Sandy Recovery Writer for NJ Spotlight, an independent online news service on issues critical to New Jersey, which makes its in-depth reporting available to NewsWorks.