Braddock made John Fetterman a politician. It's also home to some of his biggest critics
As Fetterman embarks on a well-funded campaign for Pennsylvania's 2022 U.S. Senate race, his record in Braddock is both his bedrock, and a thorn in his side.
Listen
5:27
In Braddock, everyone has an opinion about John Fetterman.
Pennsylvania's lieutenant governor was mayor of the struggling steel town for 13 years. He built his political reputation in Braddock, to such a degree that when people mention the town of under 2,000 people, they often mention Fetterman in the same breath.
Now, as Fetterman embarks on a well-funded campaign for Pennsylvania's 2022 U.S. Senate race, his record in Braddock is both his bedrock, and a thorn in his side. Because when you talk to the people who live in Braddock and know the former mayor's work well, complicated feelings emerge.
Sitting in a park on the borough's main street, Chardaé Jones, the 32-year-old mayor who was appointed to the position in 2019 when Fetterman became lieutenant governor, says her predecessor has "a fan club of a lot of people who aren't in Braddock."
"It's like, 'Have you ever been to Braddock?'" she said. "Someone said he rescued the community and I was like, 'Rescued? People still need jobs.'"
Braddock, 11 miles east of Pittsburgh, had its economic heyday in the first half of the 20th century.
It peaked with more than 20,000 residents in the 1920s. The decline of the steel industry hit the town hard, but it wasn't the only blow — with historians arguing that Braddock's decline was at least equally driven by suburbanization. It was a company town in a time when workers no longer wanted to live in the shadow of their workplace, unless racist policies like redlining gave them no choice.
One of the most notable employers in town during the boom times was the U.S. Steel-operated Edgar Thomson Steel Works, which is still in use today.
Although the mill remains, the population has dwindled. The borough has about 1,800 residents, 70% of whom are Black, and the median household income hovers around $22,000.
'He did the good work'
Fetterman isn't from the area. He was born in York County to teenage parents, with a father who went on to become a successful partner at an insurance firm. He arrived in the borough in 2001 after a stint in AmeriCorps, fresh out of a master's program at the Harvard Kennedy School of Government, and was tasked by Allegheny County with starting a youth program. He ran for mayor four years later and won narrowly. Over the next decade, his image, and Braddock's, were shaped by years of generally glowing interviews and profiles from national media, telling the hopeful story of a small-town mayor who looked like no other politician — one working against the odds to revitalize an old steel town.
His advocacy for the town has earned him committed allies.
Fetterman's campaign pointed out that two of the seven members of Braddock's town council have endorsed him, and quoted their remarks. Council President Rob Parker said Fetterman's "love for and devotion to Braddock over the past two decades has been clear," and that he is "someone who works hard and fights for the people."
Another member, Dee Scales, called him "well qualified to represent Pennsylvanians in the U.S. Senate," and Delia Lennon, who is running unopposed to replace Jones as Braddock mayor, said he's a "stand up guy."
"Many years ago when he came to Braddock as a teacher of the youth program, he was tall and awkward-looking, but he did the good work for the people of Braddock and now with the state of Pennsylvania," she said. "I've been with John from the beginning and I'll stick with him to the end."
Many of his supporters have stories of first being skeptical of Fetterman, but ultimately being won over. That was the case for Lisa Freeman. On a warm April day, she was busy spreading mulch in the flowerbeds outside her urban farm, Freeman Family Farm & Greenhouse, in Pittsburgh's Manchester neighborhood.
Freeman is a social worker. She never lived in Braddock, but she began spending a lot of time there when she embarked on an anti-violence initiative around the same time Fetterman got to town in the early 2000s. In those years, she says, Braddock was the "murder capital" of Allegheny County.
When she first met Fetterman, she didn't know what to think of this 6'8", bald, tattooed white man who had arrived in majority-Black Braddock to start a youth program.
"When I went to his office, all his walls were painted black … I was like, 'What the hell, where am I going?" Freeman recalled. "People would say, 'Oh, he graduated from Harvard, he's a very intelligent man' … and I'm like, 'He went to Harvard? He looks like a skinhead.'"
Fetterman was "a man of few words," she said, but he always got to the point quickly, and she was impressed that no matter what happened in Braddock, he always seemed to be helping. She recalls once driving through town and seeing him in the road with an orange vest on, directing traffic. The same went for gun violence — watching the news at home, she'd sometimes see him in the background of crime scenes, keeping tabs on what was happening in the town.
The one-man show
But even as he built allies, Fetterman never developed close relationships with some longtime Braddock residents, including much of the town council.
Over the years Fetterman has been called aloof, criticized for undertaking major projects without buy-in from council, and accused of taking too much credit for team efforts. Vince White, who was born and raised in Braddock and toyed with running against Fetterman during one of his reelection bids, still calls him a "carpetbagger."
Fetterman has often dismissed his critics as people he would never have been able to make happy. He wouldn't comment on the record for this story, but recently told Politico that the council and its supporters tried to obstruct everything he did in his early years in Braddock, and wanted him to fail.
His campaign did release a brief statement, saying that Fetterman "worked to bring in more jobs, opportunities for young people, affordable housing, and health care to the people of Braddock" during his time as mayor and that his "proudest moment in public service" came when the town went more than five years with no loss of life through gun violence.
"John was reelected mayor…because the people of Braddock know how deeply committed John and his family are to this community," the campaign said. That electoral success was overwhelming. After Fetterman's narrow first mayoral win, he easily won three subsequent contests over thirteen years, even though some were vitriolic.
But his detractors insist that regardless of Fetterman's electoral record, there's more to him than meets the eye.
"Before he got here…we had problems, a lot of problems," said Louis Berry, 62, a local musician, activist and Chardaé Jones's uncle. "But it seemed like when he got here, Braddock became all about him. And less about the community."
Looking down Braddock Avenue, there are signs of the former mayor everywhere.
The plaza where Jones holds many of her pandemic-era meetings is across the street from the Free Store, a shipping container turned donation hub that Fetterman's wife, Gisele Fetterman, founded as a mutual aid project. Further down is a stylish brewery that Fetterman nurtured, letting the founders live for free in a rehabbed convent he owns. There's an upscale restaurant in a converted car dealership that he helped finance and lives on top of, and an urban garden he started with help from the group Grow Pittsburgh.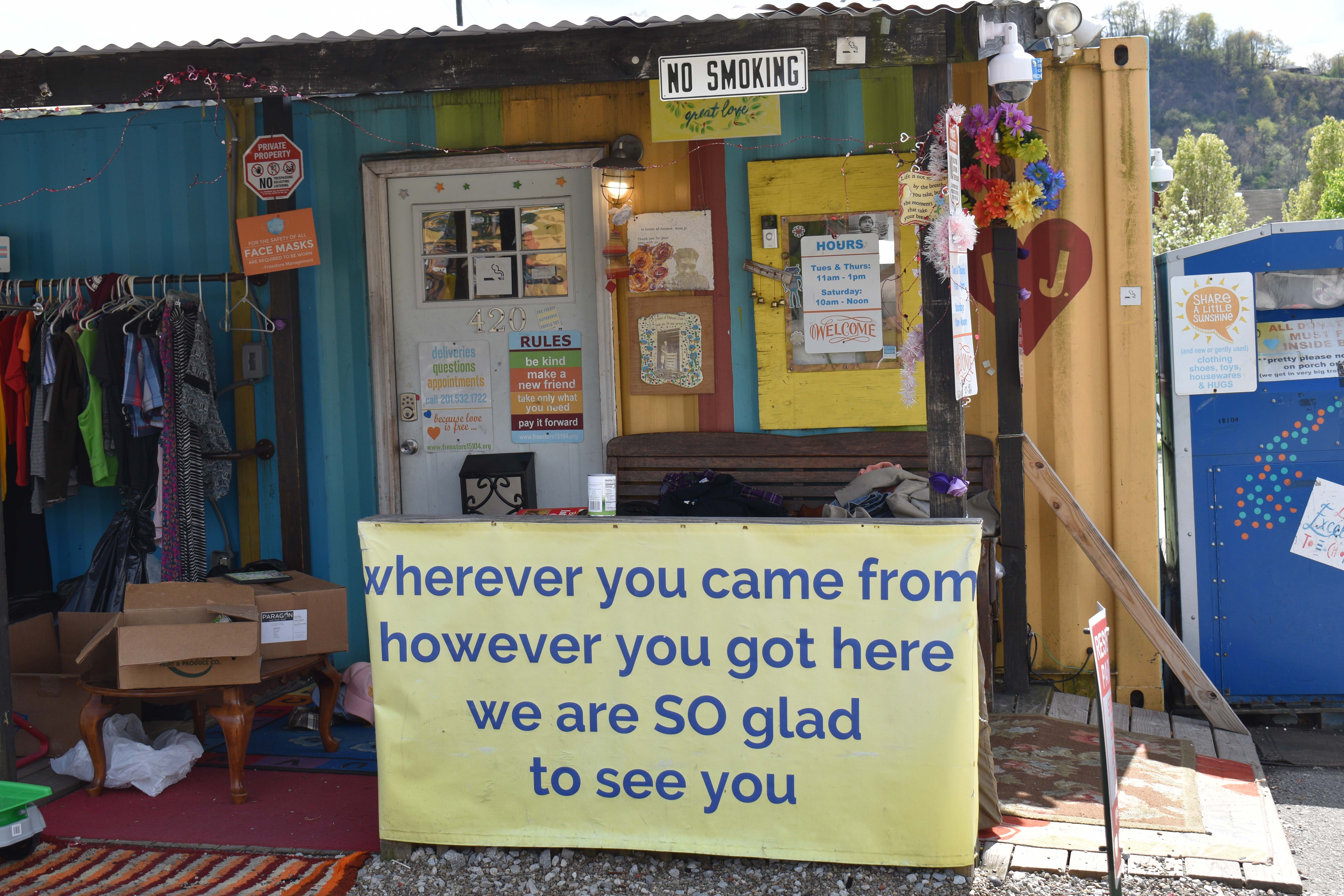 One of the projects Fetterman is proudest of is an old church he bought and renovated into a community center with the help of Levi's jeans, which paid $1 million for the overhaul in exchange for using the town in an urban renewal-themed ad campaign. The center is named for Nyia Page, a two-year-old girl who was murdered in Braddock in 2007. Fetterman paid for a headstone for her through his nonprofit when he found out her family couldn't afford one.
Along with Fetterman's youth program and his efforts to reduce violence, this revitalization effort is the thing most closely associated with him. He used the nonprofit, Braddock Redux, to finance a lot of it, routing the Levi's money, for instance, through the nonprofit instead of the town coffers because he argued it was the best way to get projects done efficiently.
Braddock's mayor doesn't have much control over public finances; council does. And during Fetterman's years in office, council members had a subpar record of managing town money. In 2010, borough manager Ella Jones, a Fetterman critic, was arrested and charged with stealing more than $175,000 from Braddock by forging councilmembers' signatures on checks. She was convicted in 2013. At the time, Fetterman said the crime was the result of "a complete lack of financial oversight."
His way of dealing with those concerns, essentially working around other town leaders, has contributed to his reputation, among some longtime Braddock residents like Berry and White, as a man who likes to go it alone. And it has led to ambivalence about some of Fetterman's big projects, like the brewery, Brew Gentlemen, and the restaurant he lives above, Superior Motors.
"I've never been there," Berry said of the brewery. "People in the community don't frequent that place. Or Superior Motors. Why would you put an upscale restaurant in a place where the residents can't afford it?"
It could be argued that the brewery — which hosted food trucks before the pandemic and sells four-packs of beer starting at $10 — isn't that inaccessible. And it and Superior Motors — which launched with the intention of hiring Braddock residents — aren't the only new restaurants in town. Brassero Grill, which began as a food truck and opened a brick-and-mortar location in 2017, is a moderately priced restaurant run by several family members who emigrated from Mexico City.
For Mayor Chardaé Jones, it's not about the restaurants themselves. It's about Fetterman's approach.
"There's a difference between coming in and asking the community what they need … instead of coming into a community and saying, 'Hey, you guys need a fine dining restaurant, you guys need this, or you guys need that,'" she said.
Tony Buba, a 77-year-old documentarian who was born and raised in Braddock, said he became frustrated with Fetterman under similar circumstances.
Although he no longer lives there, Buba has made several films about the town. In 2010, he joined a group protesting health care giant University of Pittsburgh Medical Center's shutdown of Braddock's local hospital. Fetterman opposed the shutdown too, but Buba said the mayor didn't really work alongside the rest of the protesters. Instead, Fetterman's biggest public gesture came near the end of the saga, when he staged a solo protest at U.S. Steel Tower in Pittsburgh and was arrested for trespassing while holding a sign urging UPMC to open an urgent care center in Braddock.
It didn't work on UPMC, but eventually Braddock did get its urgent care, courtesy of Highmark Health's Allegheny Health Network.
Even so, Buba said the whole episode ended his relationship with Fetterman. That, he said, is another trait that seems to define the lieutenant governor: he doesn't take criticism well.
"If you ever hear him speak, there's never a 'we.' It's always a 'me' or 'I,'" Buba said.
Fracking, and 'that awful episode'
In the past, complaints like these typically stayed in Braddock. But now that Fetterman is ramping up a national political campaign, they're finding a bigger audience.
In particular, one incident has gotten widespread attention. In 2013, Fetterman pursued an unarmed Black jogger, pulled a shotgun on him, and detained him because, he said, he believed the man had been responsible for firing several gunshots.
Fetterman hasn't apologized. He recently made a campaign video that attempts to explain his actions. He describes hearing gunshots while outside with his young son and then making a  "series of split-second decisions." As context, he said Braddock had been struggling with a gun violence epidemic and the incident had happened shortly after the Sandy Hook shooting. After getting his son out of harm's way, he saw a person running and wanted to "protect and safeguard" his community.
According to media reports from the time, he used his truck to catch up with Christopher Miyares, then 28, and proceeded to hold him at gunpoint until police arrived.
Police found no weapons on Miyares, and noted he was wearing running clothes before ultimately releasing him. Soon after the incident, Miyares accused Fetterman of trying to spin the story.
"He's trying to make it like it's OK," he told local media. "He's trying to justify what he did."
Fetterman easily won reelection just four months after "that awful episode," he noted in his campaign ad.
Within Braddock, the incident got attention at the time, but residents weren't entirely of one mind about it. Berry thinks Fetterman "should have been arrested, just like if one of us would have been, if it was a plain citizen." But White, who recently moved out to nearby North Versailles, in part to get away from gun violence, said while he's generally happy to criticize Fetterman, he can't in this case.
"People do what they got to do to protect themselves, so I can't necessarily say he was wrong if he felt that his life was in jeopardy," said White, who is Black.
Last month, Jones endorsed one of Fetterman's Democratic U.S. Senate opponents, Philadelphia's Malcolm Kenyatta. She liked that Kenyatta, the first openly gay Black man to serve in Pennsylvania's House of Representatives, is near her age. And, she said crucially, he supports a moratorium on fracking.
Fetterman used to support a moratorium too. When he first ran for U.S. Senate as an underdog in 2016, he signed a pledge to support one, and attacked his Democratic primary opponents for being soft on drillers.
But before he launched this new campaign, he began to take a more nuanced stance.
"Fracking, particularly when it's done in an uncareful manner, can be incredibly damaging to the environment," he said in February. "But there's also reality with respects to competing interests. Jobs and a way of life…globally, 41 percent of our energy comes from natural gas. So, to ban natural gas extraction on day one of anything, where would all this come from?"
This was the deciding factor for Jones, who is worried about the health issues that can come with fracking and has been helping fight off a proposal to drill a well at the U.S. Steel plant near Braddock. She had already split with Fetterman on fracking at U.S. Steel. He hadn't liked the idea of a well either, but worried that stopping the project might force the company out of the area entirely.
The argument recently became moot. On Friday, U.S. Steel announced it was ending its effort to drill on the Edgar Tomson plant, saying it "values input from our neighbors and the communities where we live and work."
The Western Pennsylvania strategy
This is in line with Fetterman's larger political approach in his Senate campaign: progressive, but with an unrelenting eye toward capturing working-class voters, especially ones in increasingly conservative, post-industrial areas like Western Pennsylvania.
"I believe in the dignity of work and the dignity of a paycheck," he said in his campaign announcement statement. "I believe the union way of life is sacred. I believe in health care as a fundamental, basic human right."
Fetterman also said he believes in "environmental justice," wants to overhaul the American criminal justice system, legalize marijuana nationwide, and thinks the country needs to increase protections based on gender and sexual orientation. He won early endorsements from two big Pennsylvania unions — United Steelworkers District 10 and the United Food and Commercial Workers Local 1776.
Jones makes it clear, she doesn't think Fetterman has a bad platform, or that he is a bad guy. She notes that she used to be good friends with his wife, Gisele Barreto Fetterman — "I told her, if you were running, I would endorse you."
But she can't bring herself to back John.
"Also, Malcolm called me and asked me for the endorsement," Jones said. "I have never had a conversation with John Fetterman in the years I've been here."
For Lisa Freeman, the Pittsburgh-based social worker, the qualities that turned some Braddock residents off of Fetterman endeared him to her.
"Did he often like to go it alone? Was he blunt? Did he ruffle some feathers? Maybe," she said. But she saw value in a style that got things done. "He was a one-man show. He took being a mayor very seriously."
Now, she said, she's happy he's taking a shot at parlaying his Braddock experience on to the national stage.
"He could be anywhere, and he chose to be in Braddock," she said. "He saw that the community needed change, and he felt he was the one to do it. And I believe he made the change."
Get more Pennsylvania stories that matter
WHYY is your source for fact-based, in-depth journalism and information. As a nonprofit organization, we rely on financial support from readers like you. Please give today.