Bensalem targets Big Pharma with suit to recover millions it's spent dealing with opioid crisis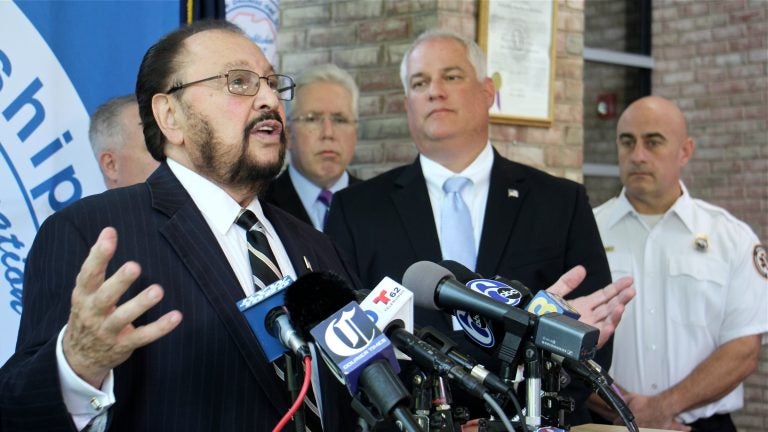 Bensalem is poised to become the first local government in Pennsylvania to sue pharmaceutical companies in an effort to recover the millions it has spent to fight the opioid crisis.
Mayor Joe DiGirolamo announced his plans Wednesday to sue more than a dozen pharmaceutical companies that he said played down the addiction risks of opioid drugs they made, marketed and distributed.
While the companies pocketed untold fortunes from the drugs, the country fell into the worst addiction crisis it have ever endured, complained DiGirolamo and other officials who joined him at an afternoon news conference at the township building in Bucks County.
Opioids are the main driver of drug deaths nationally. More than 4,600 people in Pennsylvania fatally overdosed last year, a 37 percent increase over the previous year.
"Our police department has taken on this problem and done everything they can," DiGirolamo said, referring to prevention programs and tougher enforcement measures. "We're at the end of the line. This is where we have to go next. Because they have done the education. They have done the prevention. They have done everything they can possibly do. It's not working."
Overdoses in Bensalem soared 556 percent, and drug arrests, 156 percent, in the past decade, said Fred Harran, the township's public safety director. And Bensalem's paramedics took more than 1,000 overdosing drug users to the hospital at a cost of more than $1 million. About 75 percent of that cost was not covered and had to be absorbed by taxpayers, the township's EMS director Thomas Topley said.
Bucks County District Attorney Matt Weintraub said three-quarters of the crimes his office prosecutes are fueled by drugs or alcohol.
Pharmaceutical companies helped create an addiction crisis that kills an average of 13 Pennsylvanians a day, said state Rep. Gene DiGirolamo, whose district covers Bensalem.
"They've been misrepresenting the dangers of these dangerous addictive drugs for years and years," said Gene DiGirolamo, the mayor's nephew. "They've misled the public, they've misled the doctors, they've misled the medical professions. And it's time that they're held accountable and accept responsibility for the damage that they done."
The mayor agreed: "This is Bensalem. We're not laying down."
Dozens of states continue investigation
A representative from the Pharmaceutical Research and Manufacturers of America couldn't be reached for comment. But in a position paper on its website, the group advocates a "holistic approach" to controlling the opioid epidemic, including cracking down on pill mills and other sources of illicit drugs; expanding treatment options; and increasing access to drugs such as Narcan that reverse overdoses or treat addiction.
The announcement came one day before International Overdose Awareness Day. Bensalem officials say they aim to file their lawsuit within the next few weeks against companies including Purdue Pharma, the Purdue Frederick Co., Teva Pharmaceuticals USA, Cephalon, Inc., Johnson & Johnson, Janssen Pharmaceuticals, Inc., Ortho-McNeil-Janssen Pharmaceuticals, Inc., and Endo Health Solutions, Inc.
Gregory B. Heller, the township's attorney, wouldn't divulge further details about the case beyond his plan to include claims for public nuisance, fraud, unjust enrichment, and violations of the unfair trade practices and consumer protection law.
Pennsylvania already is part of a federal investigation of pharmaceutical companies, involving attorneys general from more than 40 states. That probe is examining what role drugmakers played in creating and prolonging the epidemic.
State Attorney General Josh Shapiro wouldn't comment specifically on Bensalem's lawsuit plans, but said: "We are a leader of the only meaningful investigation into the manufacture, marketing and distribution of opioid painkillers … More than 40 state attorneys general are working collectively on this investigation. This is a big fight, and it takes the chief law enforcement officers of states around the country working together to win it."
A handful of other cities and states have also taken their opioid fight to court, including Ohio, Illinois, Mississippi, and several counties in New York and California. Even the Cherokee Nation has joined the cause.
Mike Dunn, a spokesman for Philadelphia Mayor Jim Kenney, wouldn't comment on whether the city plans similar legal action, saying only: "The city is considering many ways to combat the epidemic."
Some legal observers worry attorneys looking to cash in on any eventual settlements from Big Pharma could spur a flood of such lawsuits, and — if unsuccessful — such cases could set bad precedents.
Plenty of blame to go around
But Scott Burris, a Temple University law professor, said pharmaceutical companies do deserve some blame.
"There is no denying that Big Pharma marketed the heck out of opioids," said Burris, who directs the Beasley Law School's Center for Public Health Law Research. "There are grounds to sue the pharma companies for what they've done in the same way that there were grounds to sue asbestos makers and tobacco makers and even purveyors of fast food."
But, the professor pointed out, what about doctors who prescribe opioids? Or the bad economy that makes vulnerable people more susceptible to addiction?
"While we point the writ at Big Pharma, we should also hold up the mirror to ourselves because the opioid epidemic is a symptom of a much more pervasive set of problems in our health care system, in our tax system, in our education system, in our country," Burris said.
For now, Bensalem has no plans to go after doctors or anyone else. But there's power in numbers, so they hope other municipalities will follow their lead — and sue Big Pharma too.
"Yes, this might be a David versus Goliath situation," Weintraub said. "But we all know how that ended up. And I think this is just the first strike in Pennsylvania. Because I suspect, and I hope, and I pray, that there will be others who will join in this lawsuit or make similar lawsuits so that we all stand united and try to attack this issue at its root."
WHYY is your source for fact-based, in-depth journalism and information. As a nonprofit organization, we rely on financial support from readers like you. Please give today.