Benefits on the verge of ending for hard-core unemployed
Listen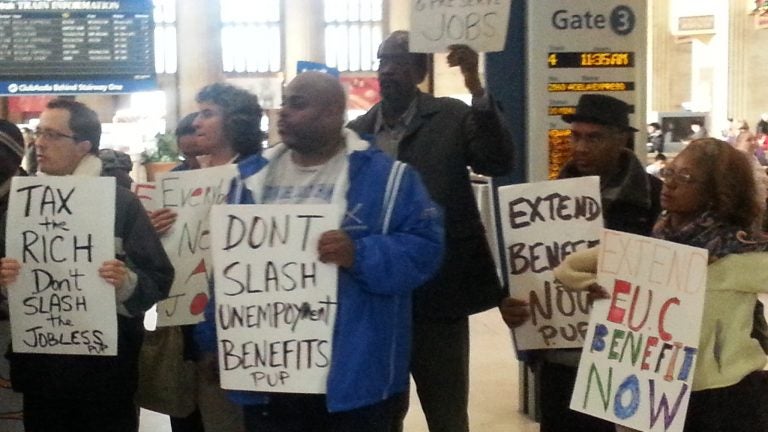 Unless Congress acts, Dec. 28 could bring the end of extended unemployment benefits for 180,000 people in Pennsylvania, New Jersey and Delaware. That has recipients worried.
"If they don't extend the emergency benefits, I could be homeless by the turn of the year here," said Bill Paci, one of those jobless people who expects his unemployment benefits will dry up. During the recession, Congress extended unemployment benefits from 26 weeks up to 63 weeks, and has been renewing the extension, until now.
Afghanistan war veteran Malik Culbreth, who was discharged from the military in January, is also concerned.
"People may say that the unemployment can be cut," Culbreth said. "The smallest bit of relief it definitely helps. I am able to survive when I was on it through the benefits, now that it's cut. I have bills, like everyone else has bills, and for me to find to find a job to compete with the money that is coming in from unemployment is really tough out here."
Sen. Bob Casey, D-Pennsylvania, is urging the Republicans in Congress to join with Democrats and cut a deal to continue the longer-lasting benefits.
"If it was the right thing to do under President Bush in June of '08 when the unemployment rate was 5.6 percent why would people think it was time to end it when we are still above 7 (percent)," Casey said.
Opponents of what would be a 12th extension say the emergency situation has passed and it's time to return to more typical eligibility requirements. Some Republicans in Congress have said they would be open to renewing the extension if cuts are made elsewhere in the federal budget to pay for it. So far, that has not materialized.
Figures from the U.S. Department of Labor indicate that, without an extension, another 187,000 people in Pennsylvania, New Jersey and Delaware could lose their benefits in the first half of 2014.